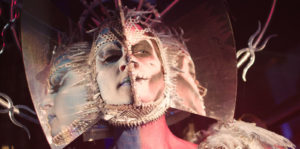 Producer Robin de Levita makes his writing and directorial debut with Lost Cos. The film examines how the past shapes our present and how trauma always hangs over us. Combining superhero action, comic book panel animations, comedy, romance, thriller, action, and drama, de Levita's is nothing if not ambitious. Does his reach exceed his grasp, or is the filmmaker successful?
Eni (Evgeniya Radilova) is a dental assistant by day and even helps her boss launder money by accepting packages at her place. At night, Eni lets loose at Los Cos, a burlesque club whose performers and audience members cosplay as various comic heroes. Unfortunately, one cosplayer, Merman (Cameron Rea), winds up dead. This tragic event coincides with a stalker emerging in Eni's life, which brings up harsh memories of her dead lover Lia (Zoë Vnak). Now, she must face her past traumas to become who she was meant to be. If that entails getting a little revenge on the scum of the Earth, so be it.
Lost Cos should have a tone problem, as one minute there's a flashback to Eni and Lia, while the next deals with an over-the-top gamer obsessed with Eni (the stalker, maybe?). A scene of some folks ordering from a food truck and the staff being sarcastic is hilarious, but a few minutes later, sexual assault happens. Detectives Jerry and Tom's (Mark McCullough Thomas and Ross DeGraw) effort to enter the club by donning animal onesies is a brilliant visual gag. That is followed by a somber flashback involving Merman. Yet, somehow, de Levita steers the ship right on through and ensures each disparate element gels together beautifully. The jokes never disrupt the action, which does not interfere with the human drama one bit. As a director, de Levita knows exactly what he's doing.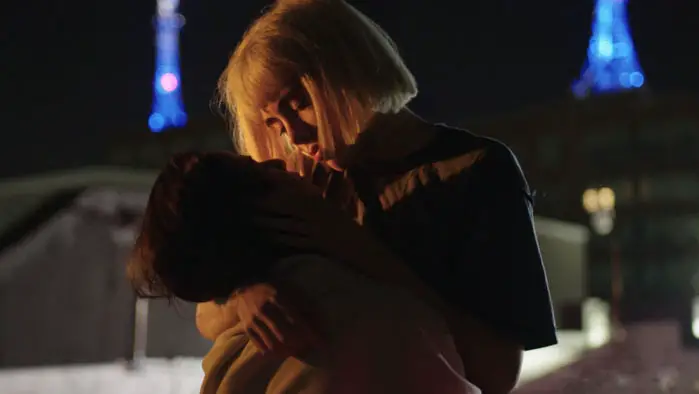 "…Eni lets loose at Los Cos, a burlesque club whose performers and audience members cosplay…"
The animated sequences, usually illustrating a specific cosplayer, by lead animator Adriano Moraes and his team are outstanding. They are highly stylized, vibrantly colorful, and energetic pieces of art that help further the characters' arcs. The splashes of red or the popping purples really aid the worldbuilding and setting. A whole movie animated like this would be pretty awesome.
Lost Cos is also bolstered by its rocking soundtrack. The score is merely satisfactory, probably the weakest element here, but the song choices are divine. They bring a driving momentum to the film, enriching every scene they are used in.
The cast delivers uniformly first-rate performances. Radilova is irresistible, switching from heartbroken to angry to sweet with the greatest of ease. Vnak is ravishing, allowing you to understand Lia and Eni's attraction to each other instantly. Rea only has a few scenes as Merman, but he wrings out plenty of pathos. Degraw and Thomas have a natural comedic timing, which they play up wonderfully.
Lost Cos examines some intense, grueling themes but does so in a surprisingly fun way. It does not matter what genre you love, this film has a scene or two of it waiting to be discovered and shared with your friends. Robin de Levita's adventurous first film is a wild ride that goes for broke in all the best ways. As such, it should not be missed.
For more information, visit the Los Cos official website.