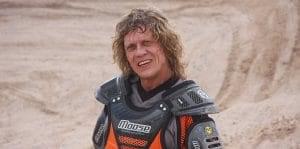 Harrod Blank, son of the one and only Les Blank, is also a documentarian. In addition to filmmaking, he is the founder of The Art Car Fest in the Bay Area and drives an art car himself. The "Camera Van" which is a 1972 Dodge covered in old cameras, is what led him to the subject matter of his latest documentary, Why Can't I Be Me? Around You. The film is somehow able to make comparisons to the artistic process behind creating art cars to the mentally and physically arduous (and often heartbreaking) process of transitioning from one gender to another. I'm not sure if upon reading that, it seems possible, and I wouldn't have thought so either. However, the film has a good working thesis that Blank builds upon.
Blank's camera van broke down in Albuquerque, New Mexico and referred by a friend to Rusty Tidenberg. Rusty is a master mechanic and inventor and also has an "art car" with their copper motorcycle of which they're very proud. Rusty is a drag racer, a hunter, and also a transgender woman. As it often happens with many transgender people around the world, Rusty's family and some of their friends had a very difficult time accepting the fact, particularly Rusty's father. We follow Rusty through her everyday life, which consists of being the superintendent of a trailer park their father owns, going to meetings at Transgender New Mexico, shopping for sexy clothes with their girlfriends, and working on cars, riding dirtbikes and all sorts of other things.
We witness the pain that Rusty feels. At the beginning of the film, Rusty says "You can call me he, she, shim. I'm a she-male". Rusty is one of the many people out there who doesn't fit within the gender binary. Rusty loved wearing women's clothing and wanted to be able to have breasts and wear women's clothes and show the feminine aspects of her personality, but also wants to keep his male "parts" and stay muscular and still have testosterone. This is difficult for a lot of people who need things to be cut and dry, which is a lot of people, especially more conservative Southern and Middle Americans (but let's get serious there are bigots literally EVERYWHERE).
"…a drag racer, a hunter, and also a transgender woman."
We also meet other artists who don't fit within the "normal" gender binary spectrum. There's artist/musician Shevaa Deva who was born intersex. They had several botched surgeries as a child to "fix" the condition. Shevaa decided just to be who they are. They said it's difficult for others. Even people within the gay and transgendered community have issues with Shevaa because they don't fit within a certain box.
Next, we meet Lucy Hosking at the Burning Man festival in Nevada. She decided to transition later in life, after having a dream about a dragon train. She decided to build the dragon train for Burning Man and to also begin the process of transitioning. We witness her driving and making tweaks to the dragon train and also playing an amazing pipe organ that shoots fire and makes some really crazy cacophonous noise. She says that her gender dysphoria never made her feel suicidal, but she knew that if she didn't transition she would have had "a life less lived, it's a whole universe of possibilities out there."
Then there's Plymouth Harman Ansbergs who refers to their gender as "goth." Ansbergs is another art car enthusiast who has an admittedly awesome goth car with a purple corset, chains, and soooo many bumper stickers. Ansbergs says "I don't feel like not having a gender is the most interesting thing about me. I just want it not to be a thing." This is something I have gathered from my personal friends who have transitioned.
A lot of people treat transgendered individuals like these fragile little otherworldly beings as they're going through the process. Of course, it is difficult, but I think for the most part, when someone transitions, of course, they become different in some ways—but mostly they become more like themselves than they've ever felt prior. All they want is support from their friends and family, and to be treated mostly the same way they were before.
"I don't feel like not having a gender is the most interesting thing about me. I just want it not to be a thing."
As fellow transgender art car enthusiast Brandi Bosier says about how a lot of people refer to transitioning as "courageous"; "It's not courage, you just don't want to die." We as cis-gendered people probably will never understand the feeling of being trapped in the wrong body. I can't imagine how it must be, but there is a high rate of suicide amongst the transgender community (41%). If cisgendered people took the time to talk to trans people about their experiences and support their choice to transition, this number would decrease.
Harrod Blank found a really great subject in Rusty. She loves telling her story and even does a full-scale rock opera which does feel kind of Waiting for Guffman, but God bless her. She is doing what makes her happy. Throughout the film, we see Rusty become more confident in her new life. Her father cuts her off, but she makes do. She visits Dr. Marci Bowers in Trinidad, Colorado to see if it's possible to get a surgery that will remove her s*****m but still keep the testicles and finds out it can cause cancer, which is devastating for Rusty, but still, she persists.
She decides that she doesn't want to be referred to as he anymore, and she feels mostly positive about the future. Her father still talks to her, but they're not where she'd like them to be yet. She's also sad that she has yet to meet a girlfriend, but I'm hoping she meets someone who loves her just as she is, which is a really wild, funny, talented, and strong human being.
Why Can't I Be Me? Around You (2019). Written and Directed by Harrod Blank and Sjoerd Dijk. Starring Rusty Tidenberg, Harrod Blank, Shevaa Deva, Lucy Hosking, Dr. Marci Bowers, Plymouth Harman Ansbergs, Brandi Bosier, Pearl Gabaldon, Magdalena V. Garcia, Jennifer Lauren, Jamilla Naji, Doc Atomic, Shannon Riley, Samuel Roll, Glen Russell. Why Can't I Be Me? Around You screened at the 2019 Film Festival.
7 out of 10 stars