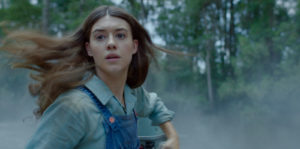 I'll admit it. The only reason I saw Olivia Newman's Where The Crawdads Sing is because I'm a film critic, and that's my job. I begrudgingly dragged myself to my local theater, sat in an entirely female audience, and stared at my watch, counting the minutes away. That said, I really liked this movie.
Based on Delia Owens' novel, Where The Crawdads Sing is the story of Kya Clark (Daisy Edgar-Jones), a young girl who lived with her family in a small house built on Carolina marshes. Kya grew up in an abusive family. Her father (Garret Dillahunt) was an angry alcoholic, and his violent temper led her mother and siblings to run away, leaving Kya to fend for herself. When the pressure of being alone was too much, Kya's father just abandoned her, leaving the young girl alone in the marsh.
Shunned by the entire town, Kya's only friends are a black couple, who owned the local general store, Jumpin' (Sterling Macer, Jr.) and Mabel (Michael Hyatt). They protect her from social services and help Kya with basic survival skills, starting with gardening. There's also Tate (Taylor John Smith), a boy Kya's age, who takes a fancy to her during their teen years. Tate teaches Kya how to read and write, inspiring her to turn her talent for drawing into a skill to earn money. The two would become a couple until Tate's acceptance into college and an empty promise to return between semesters.
Kya's story is couched in between a courtroom thriller. A popular young man, Chase (Harris Dickinson), was found dead at the base of an observation tower. Chase fell to his death from the top, and there is no evidence of foul play. But, the police decide that Chase was murdered by the crazy marsh girl, Kya. Charged with murder, Tom Milton (David Strathairn) is the only lawyer willing to take her case pro bono. However, it's soon discovered that Kya had a relationship with Chase, and circumstantial evidence all points to her involvement.
"…the police decide that Chase was murdered by the crazy marsh girl, Kya."
Where The Crawdads Sing is about the misunderstood and underdogs in life. I suppose what makes this story work is the theme of survival. The only piece of advice Kya took from her father was to learn to be a survivor, and surviving is the running theme of the film. Kya took matters into her own hands, and she survived on her own as a child with no government handouts or support from the community. She learns to grow vegetables, hunt for mussels for money, and keep them out of the public eye. She survives the abandonment of everyone she loves from her mother, siblings, father, and Tate. She also survives the violent advances from Chase.
In her effort to survive, Kya becomes a recluse. Finally, she finds herself living in the marsh and avoiding any and all people because anyone she gets to know winds up leaving. Now, seen as the "marsh girl," Kya finds her life and freedom at the mercy of her "peers," who have judged her and bullied her all her life. It's at this time that she finally decides to stand up for herself.
Daisy Edgar-Jones is the star here and gives an incredibly endearing performance. Kya is vulnerable in the beginning and finds strength in the end. We root for her from the abuse of her childhood to the final verdict of the murder trial. The supporting actors are good but very average. Except for Dillihunt and Strathairn, Edgar-Jones acts rings around the cast.
As good as the movie is, I'm not exactly its target audience. But solid storytelling prevailed, and though you may not be its target audience either, Where The Crawdads Sing is worth taking the risk. You'll be pleasantly surprised.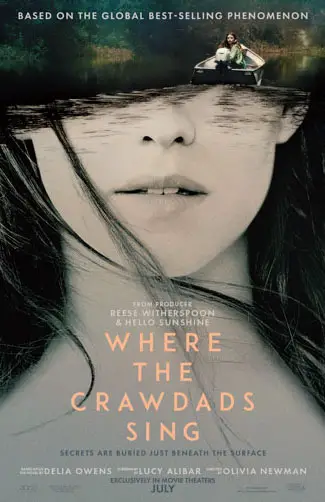 "…Daisy Edgar-Jones...gives an incredibly endearing performance."