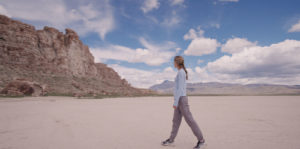 In geological terms, an unconformity occurs when two distinct and contrasting ages of rock are discovered butt up against one another as if chapters of a book were ripped out without explanation. In his feature film, Unconformity, writer/director Jonathan DiMaio explores these drastic contrasts in life.
Alex (Alex Oliver) is a geology graduate student who discovers a geologic research opportunity of a lifetime. Unfortunately, her mistake was trusting her "supportive" boyfriend Gary (Ben Baur), who steals the proposal from underneath her. So now she's relegated to being an aide for her advisor, Dr. Stein (Drew Gehling). Finding herself in a bit of a funk, Alex puts her academic career on the line and heads off on her own to the Nevada high desert to conduct research. But unfortunately, the skeptical Dr. Stein gives Alex a very short leash on her wild goose chase.
In Nevada, Alex sets up her tent with a modest amount of supplies and finds that she appreciates the solitude of the isolated location, getting her hands dirty in research, and the occasional moment to pursue her love of rock climbing. Her camp is set up near the property of struggling rancher Everett Devale (Jeremy Holm) and his young son, Nick (Jack Mulhern). The Devale ranch is going through financial troubles as local official Jason Lowrie (Eddie Martinez) keeps telling Everett and Nick that their cattle are grazing on government lands illegally. He warns them to get a handle on the situation, or they will be fined and sanctioned. The trouble is so bad that Everett is considering giving up on the ranch, but Nick is determined to keep the family business going.
Unconformity then follows the friendship that' struck between Alex and Nick. Nick helps her with a few supplies and small luxuries while Alex teaches him how to rock climb. However, their friendship is tested as Dr. Stein wants Alex to come back because her research is showing no results, and after spending an afternoon with Alex, more cattle have wandered onto government land under his watch.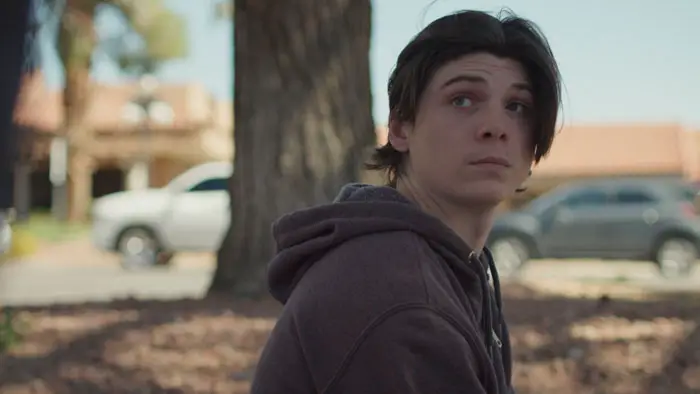 "…Alex…finds that she appreciates the solitude of the isolated location…"
Unconformity is a dramatic tale that offers several layers of unconformity. Thanks to Jurassic Park, geological and paleontological digs are often placed out in the middle of nowhere in a giant pit somewhere. In reality, research camps are often in close proximity to local ranchers and farmers, Native American reservations, and small desert towns.
Like the Devales, ranchers are often next to government lands, and any encroachment, whether intentional or not, leads to fines and annoying encounters with bureaucrats. Nick hopes to one day take over the ranch from his dad, but this is set against the economic and regulatory realities of that dream, Nick's unconformity. For Alex, unconformity comes in her passion for geology being set against the cutthroat nature of the academic setting. Let's face it. There's not a lot of money in scientific pursuits, which causes professors and students to scramble for grants and publication opportunities like rats in a cage.
This small indie drama is all about the performances of its leads, Oliver and Mulhern. They play Alex and Nick in an intentionally understated way. As a result, the actors tell an authentic story about people who could be you and me without resorting to high-drama or Shakespearean bravado.
As a fan of indie films, I admire filmmaker DiMaio's story and his introspective feelings about the art of living. The theme is very much about this journey we're on, which is not always what we imagine it to be. Unconformity uses its title to focus on one aspect of living. You will not be blown away by a grand life-altering statement from overblown Big Hollywood epics, but you may look at where you are today a little bit differently or see the light at the end of the tunnel in a whole new way.
For screening information, visit the Unconformity official website.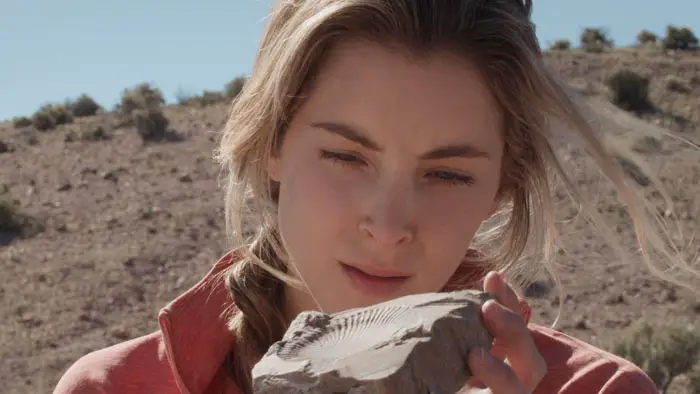 "…I admire filmmaker DiMaio's story and his introspective feelings about the art of living."