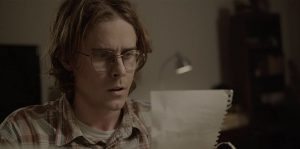 When someone says, "Oh, this movie has only been on for 10-minutes, it's felt like 30," nine out of 10 times, that is a bad thing. The movie's boring and dragging, making every minute seem magically elongated. But, every blue moon, an outlier crops up. One where the time distortion is not because anything's wrong, but because the characters are so well-established and the plot so engrossing. So much so, that the economical set-up is a surprise. Such is the case with Marc Cartwright's short dramatic thriller We Die Alone.
Aidan (Baker Chase Powell) works at a Goodwill type of store, where he gets on quite well with Elaine (Ashley Jones). Seeing as Aidan gets very nervous, tongue-tied, and awkward around most women he speaks to, this is a nice change of pace for him. Complicating this potential relationship is Aidan's new neighbor across the hall, Chelsea (Samantha Boscarino).
She got locked out of her apartment and knocks on Aidan's door for help. While he stammers a bit, a small connection is made, especially when he learns of their mutual love of puzzles. But, Chelsea has foregone emotional attachments, so Aidan might be looking for something that is not there. But, not everyone is who they seem, nor are their motivations as straightforward as initially believed. These twists throw all three lives into disarray and danger.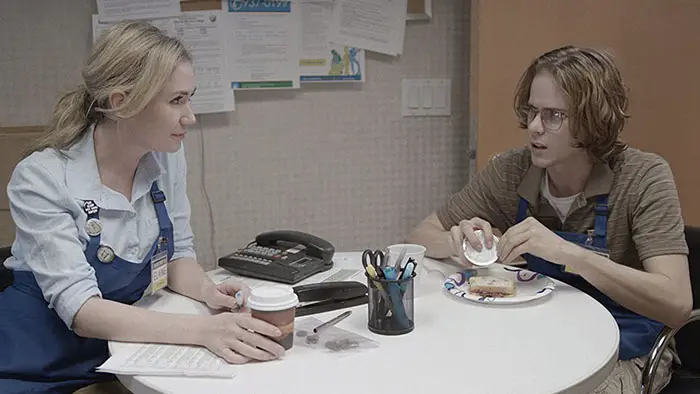 "Complicating this potential relationship is Aidan's new neighbor across the hall…"
The relationships in this roughly 25-minute film are a bit more complicated than that somewhat vague plot description. The problem is how spoilery giving more details would be. But, going back to the point of the opening paragraph, some 15-minutes into We Die Alone, Aidan is prepping for a pseudo-date night of pizza and puzzling with Chelsea. In order to get his apartment clean, he calls out of work, lying to Elaine about the reason why. At this moment, I was sure the film had been on for roughly a half-an-hour, but nope. The reason I thought it had been on nearly double its length is because of how invested I was in what was happening. The sweet way Elaine tells Aidan to feel better (he says he has a cold or some such) makes you feel for her. But, the movie quickly establishes Aidan's point of view, so one is excited for his night with Chelsea.
The script, written by Cartwright and Cassie Keet, is fantastic. It gently hints at possible mental health issues for Aidan, without spelling things out for the audience, trusting them to pick up on the cues. It then wildly subverts expectations in a bold way, while ensuring all the twists and turns make sense with both the characters and the story. It also creates dynamic, well-defined characters, all of who are relatable and likable to varying degrees.
It certainly helps that We Die Alone is brought to life by an impeccable cast. Baker Chase Powell ably brings to life both the awkward, nervous ticks and optimistic attitude of Aidan. As Elaine, Ashley Jones is sincere and sweet, bringing a lot of warmth and heartbreak to the role. Samantha Boscarino is charismatic enough that Aidan's instant attraction to character is believable.
We Die Alone is a crackerjack script full of surprises and engaging characters. Cartwright maintains the tension and excitement through excellent direction, and all of it is brought to life by a great cast. What more can you ask for?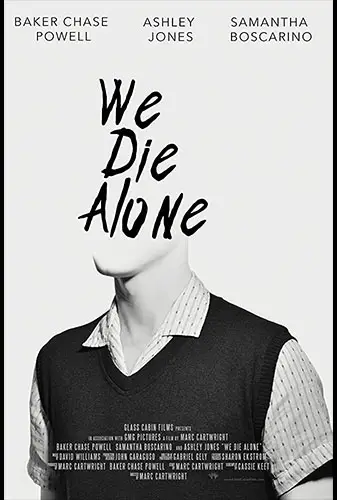 "…wildly subverts expectations in a bold way..."