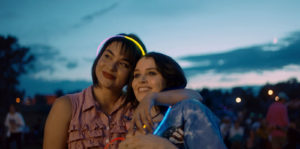 Whether it's now or later, there's a good chance that the past will seep into the present one way or another. In the bold and poignant drama We Burn Like This, written and directed by Alana Waksman, past trauma is unearthed and experienced all over again. Yet, through restraint and prudence, the film deals with the ingrained, unavoidable impact of transgenerational trauma and the possibility of healing.
Rae (Madeleine Coghlan) is a 22-year-old Jewish woman living in the large, historic city of Billings, Montana. She spends most evenings with her best friend and roommate, Chrissy B. (Devery Jacobs). One night, Rae and her friend are walking home when a bigot throws a glass bottle at Chrissy, who is Native American, and yells, "Go back to your country." This act of racism is followed by another as Rae wakes up to find an anti-Semitic flyer tucked in the door. Rae is shocked to discover that bigotry still runs through parts of modern society, but a more enlightened Chrissy asserts that there will always be people looking to spread hateful beliefs.
These vile scenarios send Rae on a self-destructive path. She goes to bars and parties and drinks too much. She meets a washed-up, middle-aged man named Wolf (Andrew Rizzo), who's addicted to oxy. But when a night of drinking goes completely awry, Rae returns home and revisits not only her past but her grandmother's, a Holocaust survivor, as well. This is when she begins her path of healing, not just one of repressing and distorting. The past is a part of who you are, and one can be a proud American while acknowledging and appreciating their ethnicity.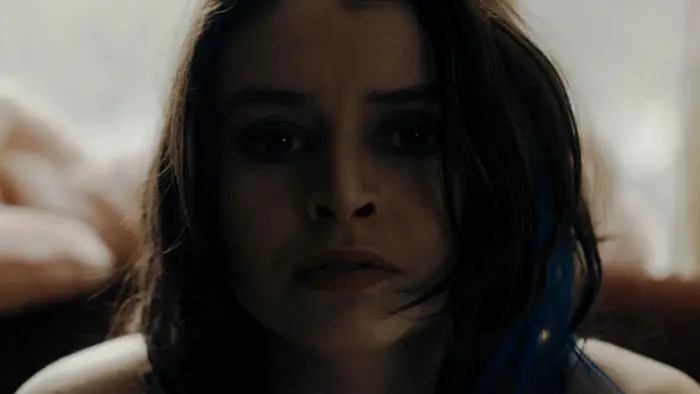 "…a night of drinking goes completely awry, Rae returns home…"
We Burn Like This spans just 80 minutes, and Waksman cleverly makes it so that the passing of time is witnessed authentically from Rae's perspective. The days blur together as the lead is put in another situation that will push her limits. Coghlan is sensational, powerfully portraying somebody who learns when and how to waver from one path to another in hopes of finding direction. While Rae's healing journey is far from complete, Coghlan ever so slightly and skillfully loosens up as Rae welcomes the past with open arms, her body language not quite as taut and agitated as before.
In addition to race, the filmmaker imbues the script with thematic strokes of maternal duty and toxic romance. The dialogue is forceful and unequivocal in its ability to disclose information about the themes. Still, the filmmaker also knows when a wide-eyed glance best communicates the magnitude of Rae's emotionally intricate journey. The stakes are both emotional and physical. Our protagonist has no idea how a bigot will react; it could be a slur or a more violent act — either way, both will harm Rae's self-worth.
The inspired photography by B. Rubén Mendoza is a visually striking blend of naturalism and expressionism. Every shot of a grimy bar, cramped room, and derelict building resembles a painting. The final scene, in particular, looks like a self-portrait, which is appropriate because Rae too enjoys painting. The score by H. Scott Salinas and Logan Stahley is rather dramatic and thrilling, ultimately sustaining the tension, even when the plotting appears scattered by the number of relationships established.
We Burn Like This operates gradually but purposefully, providing painterly shots that linger and conflict that will relate to anyone who has ever experienced bigotry and intolerance. While Waksman never tries to mask her intentions, there is a certain amount of subtlety that works to the film's benefit. Despite some plot points being more thought-out than others, the movie remains a quietly affecting and distressing drama with marvelous performances.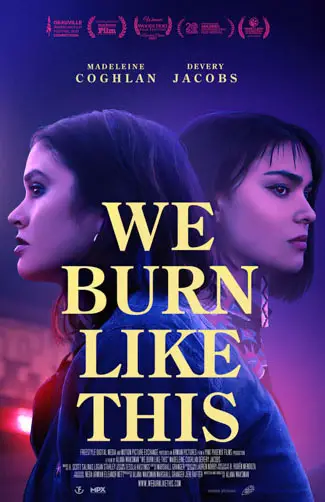 "…quietly affecting and distressing..."