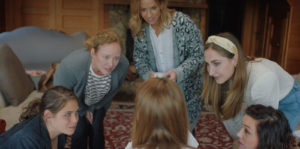 SXSW FILM FESTIVAL 2022 REVIEW! Brace yourselves for a hurricane of revulsion with writer/director Beth de Araujo's gut-wrenching horror movie Soft and Quiet, presented by Blumhouse. Elementary school teacher Emily (Stefanie Estes) is heading out to the church with a homemade pie to host the inaugural meeting of like-minded local ladies she met online. The other women include Leslie (Olivia Luccardi), who was invited by her boss Kim (Dana Millican), Marjorie (Eleanore Pienta), Alice (Rebekah Wiggins), and Jessica (Shannon Mahoney).
As they all kibitz and talk over pie and pastries, Emily's club is revealed to be a white power gang. We soon find out who belongs to the KKK and who just got out of prison. Emily emphasizes the importance of maintaining a soft image to allow their racially genocidal philosophy to penetrate the mainstream quietly. After getting thrown out of the church, the women, aside from Alice and Jessica, who bow out, decide to move the party to Emily's house.
During a stop at Kim's corner store for wine, Anne (Melissa Paulo) and Lily (Cissy Ly) come in to buy some wine as well. Because neither is white, the group torments them until a fight breaks out and the Asian women are thrown out. When Craig (Jon Beavers), Emily's husband, shows up, he is alarmed at the women's plan to break in, vandalize Anne and Lily's house, and steal their passports. All of his concern, though, is only about getting caught. Emily calls Craig out for his cowardice and questions his manhood and commitment to the cause. But the felony prank doesn't go as planned due to the Asian women returning home earlier than expected. So, now the inside of the house gets painted with a fresh coat of horror.
"…the women's plan to break in, vandalize Anne and Lily's house, and steal their passports."
Spearheaded by the writings of Robert Bloch and later Joe R. Lansdale, modern horror has steered away from the supernatural towards real-life ugliness. The black and white monsters of yore have nothing on the scariness of serial killers and white supremacists. Emily's Nazi garden club would make a room full of Draculas vomit blood. The sugar coating of manners and motherhood on the evil of race hatred alchemize the same shock one gets from kids playing during lynching picnics. The bloody core of the horror of racism is it seeks dehumanization until murder is justified. Soft and Quiet shows how small the nudges are to implement fault on financial inequality by directing the blame on minorities. It is eerie to see how quickly Marjorie gets caught up in the Aryan festivities by positive reinforcement by a group with a pretty face. This creates a sense of dread that blossoms into pure terror when things get out of control.
Soft and Quiet is the most unsettling real-life horror movie since Henry: Portrait of a Serial Killer. The seemingly uninterrupted single take with a handheld camera fits the production perfectly. So far from being a gimmick, the fluid way a flowery Nazi nightmare surrounds us emphasizes the feeling that this s**t is really happening. While many of the worst acts are wisely kept out of frame, the terror created during the torture sessions is overwhelming.
The real advantage of this method is it transmits the same energy one gets from an in-person theatrical performance. Estes, Luccardi, Millican, and Pienta deliver show-stopping performances that display a broad spectrum of extreme reactions. The realistic way each actor travels their respective arcs is believable and potent. Paulo and Ly do an extraordinary job of making the audience feel the pain. The oner format is a bonanza for talented actresses like this. They all bring it.
This impressive debut cements Beth de Araujo's place in the current revolution of talented woman directors in the genre. Soft and Quiet is a must for serious horror fans, though it will result in repeated showers afterward to get the film off.
Soft and Quiet screened at the 2022 SXSW Film Festival.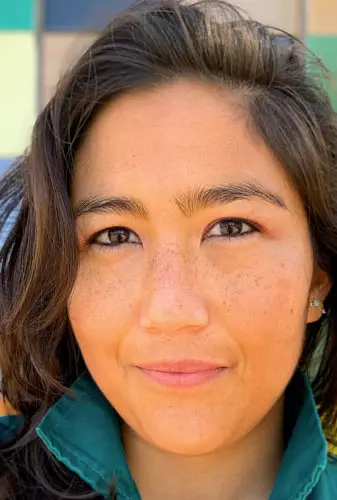 "…unsettling...impressive..."