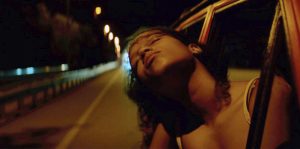 Waves is about the little things: the way Catharine recoils – barely noticeably – from her husband's kiss, or pulls her hand away when his brushes against it; the way Alexis' nails glow fluorescent against the gurgling black ocean (later, that glow gains nostalgic resonance); the way the security guard addresses patients at an abortion clinic, warning them about the crazy protestors outside. Shults peppers his narrative with moments of blistering-raw emotion: Emily soothing Tyler during a moment of helplessness, Ronald attempting to reconcile with Emily, Catharine letting her husband know how she truly feels. It's about finding that one person who will listen when the world seems to lay mute. It's about not realizing the mistakes we're making until they bite us, and then atoning for them, and passing on the acquired wisdom. It's about how all of our actions carry weight, how they create the titular waves; it examines the repercussions our seemingly inconsequential actions have on our loved ones. It's about retaining our inherent humanity and being kind to one another.
But Shults' film is about more than that, something intangible that only a select few films touch upon: the ephemeral nature of Life Itself. Stunning colorful interludes, bringing to mind the aquarelle touches in Punch-Drunk Love, signify shifts in tone and time, making for an elegiac, incredibly vibrant journey. Trent Reznor and Atticus Ross' otherworldly score emphasizes that: it morphs with the film's stellar soundtrack, echoes of recognizable pop tunes reverberating in the distance, fusing in and out of the majestic electronic soundscape. Drew Daniels' spectacular cinematography doesn't merely complement the narrative – it becomes one with it – a swooping, unexpected shot can knock the air out of your lungs; a 360-degree pan catches every detail, immersing you right into the scene. Shults blends it all together seamlessly. Waves' technical mastery is unparalleled.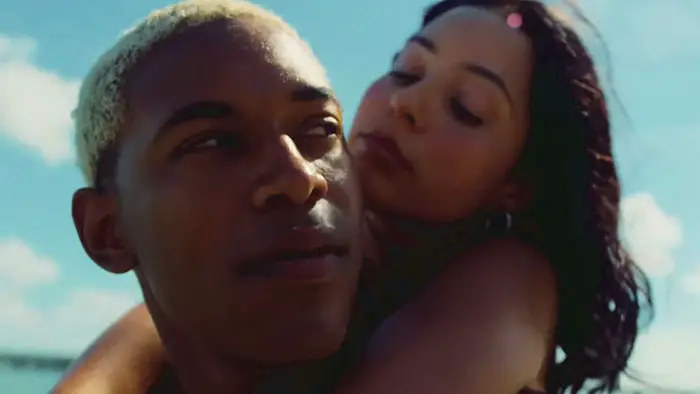 "…it will make you cry, yet never manipulate your emotions…"
Part of the allure of Waves is how Shults opens everything to interpretation. No one is a clear-cut "villain." Perhaps embittered by the loss of his wife – Tyler' and Emily's real mother – or by his own unfulfilled aspirations – or both – Ronald comes off as a tragic figure. In a stellar ensemble cast – it would take pages to delve into the nuances of each note-perfect performance – I'd like to single out Taylor Russell. Her acting is so pure and natural, so poignant. She practically invites you inside her mind. We'll be seeing much more of Russell, mark my words.
What at first seems like a cautionary tale about overly stringent parenthood becomes a study of adolescence, turns into something else entirely, then reverts back on itself. In a brave move, bound to startle viewers used to conventional structures, Shults shifts gears, subtly layering shades of complexity without ever weighing the film down. "All we have is now," Ronald says at one point. And what we have now is Waves. Miss it at your peril.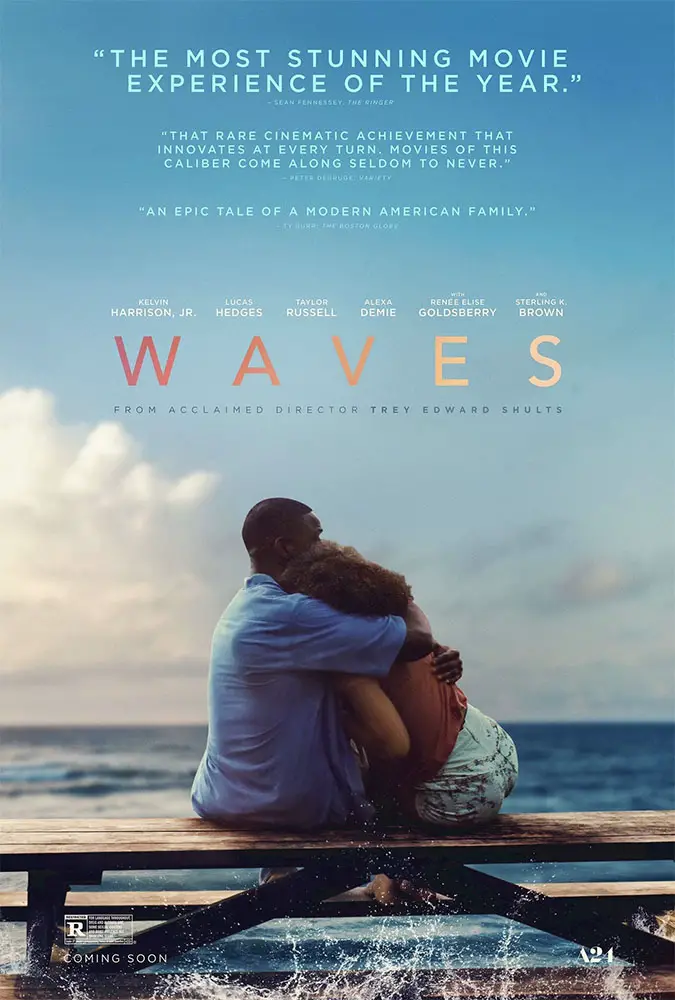 "…Shults blends it all together seamlessly. Waves' technical mastery is unparalleled."