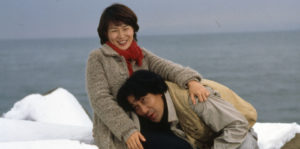 Magical Realism is a glorious subgenre of film where the fantastical occurs in an ordinary cinematic reality. The province of a great many South American writers and filmmakers, Shohei Imamura creates a sweet and kinky Japanese faerie tale in the key of Magical Realism with Warm Water Under a Red Bridge, his last film. Originally released in 2001, it is being re-released as part of a celebration of Imamura's filmography. Dead as of 2006, the filmmaker was a fantastically inventive storyteller for the entirety of his long career. Here Imamura turns his powers of imagineering to consider a family with a secret, sensual shame.
The women of the Aizawa family are blessed/cursed with a wellspring of water in their bodies. This wellspring fills over the course of a month, and when full, it drives them to compete in insane acts. The only remedy is penetrative sex with a man they're attracted to. So we find Saeko Aizawa (the radiant and gorgeous Misa Shimizu) shoplifting at the local grocery store, full to the brim with mystical water.
Then there's Yosuke Sasano (Koji Yokusho), a ne'er-do-well salesman looking for a job, who finds the earring she left behind in the store and brings them to her. This leads to a deeply intimate act of thanks, wherein Saeko is released of her magic water. Said water then warms the river under the eponymous red bridge and brings forth all manner of life, including saltwater fish. At one point, a local pensioner catches a flounder(!) in an allegedly freshwater river. These sex acts of fertilizing the earth and the water break the film into five chapters.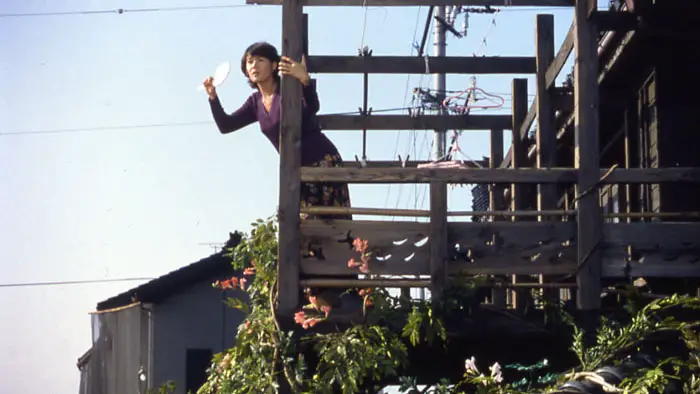 "…fills over the course of a month, and when full, it drives them to compete in insane acts."
For a culture that views sex as shameful, Warm Water Under a Red Bridge does not shy away from a crisp, clean framing of every sex act. While we do not, thankfully, watch the complete biological actions taking place, it's quite clear Saeko and Yosuke have five intimate moments, deepening the bond between the pair of them. This is a beautiful film and a very delightful faerie tale.
The acting is superb. The entire ensemble brings us into the quirky and sometimes kinky reality of this little town to the south of Tokyo. I especially enjoyed the African runner training for the Japanese marathon. His coach follows him everywhere on a 10-speed bicycle. Or the elderly pensioners catching all manner of unexpected fish. Then there's the ghost of Yosuke's former friend, Taro (Kazuo Kitamura), visiting to give him encouragement to seek a treasure. Or the geyser that releases every time Saeko releases and orgasms. Such delightful, fantastical, yet realistic things to observe.
Warm Water Under a Red Bridge is a warm, uplifting romance. It plays out the way most Spencer Tracy and Katherine Hepburn romances do. Seek this out if you enjoy a good, kinky, and romantic film. It simply has to be experienced. Also, this is the last work of a renowned Japanese filmmaker. You owe it to yourself to watch a wholesome but sexy film like this.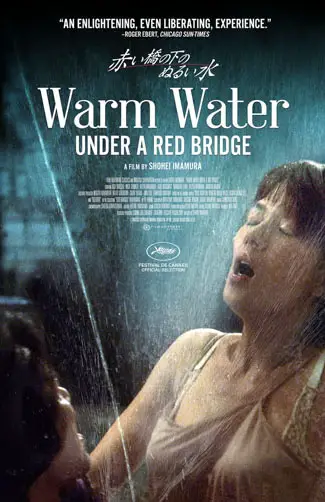 "…a sweet and kinky Japanese faerie tale..."