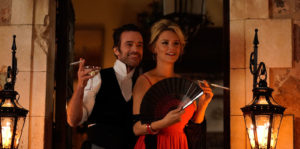 Morticia and Gomez. Loretta and Ronny. Hellboy and Liz. Mathilde and Manech. David and Elise. These cinematic couples are so madly, deeply, and profoundly in love with each other that viewers never question what either one gets out of the relationship, no matter when their respective films begin or end their stories together. The main couple of director Régis Roinsard's inspired Waiting For Bojangles, based on a book by Olivier Bourdeaut, which was adapted by Roinsard and co-writer Romain Compingt, falls squarely into this category as well. They are in love, and not a damn thing or person will stand in their way.
Waiting For Bojangles begins with Georges Fouquet (Romain Duris) attending a party, delighting everyone he encounters. The thing is, each person is under the impression he is somebody different. Then Georges sees a ravishing beauty named Jean-Paul. Or is her name Antoinette? The two go back and forth like they've known each other forever. Eventually, they drive off and crash into a tree near a church. Impulsively, Georges and Camille (Virginie Efira), her real name, wander in and declare that they are married by having sex on the alter.
The following day, Georges wakes up alone but finds his new wife making a scene at a shop. He redeclares his intent to love every woman she'll ever be, and the two become a permanent item. They throw lavish parties and live it up, and for their son, Gary (Solan Machado Graner), it is magical. Though it presents some challenges at school, as his classmates don't believe his tales, though they are true (can animals win best supporting actor awards? The family pet is a bird who is just delightful). Every night, the couple dances to "Mr. Bojangles" as Gary watches them, perfectly content with his life.
Unfortunately, while his parents' fun and fancy-free life seems perfect and charming, the real world still exists. As the Fouquets see their home upended due to unpaid bills, Camille begins losing her already tenuous grasp on reality even more, putting her, Georges, and Gary in danger. Can love really conquer all? Is it better to enable and cherish one's mental health issues when that is the thing that brings out their fiery passion?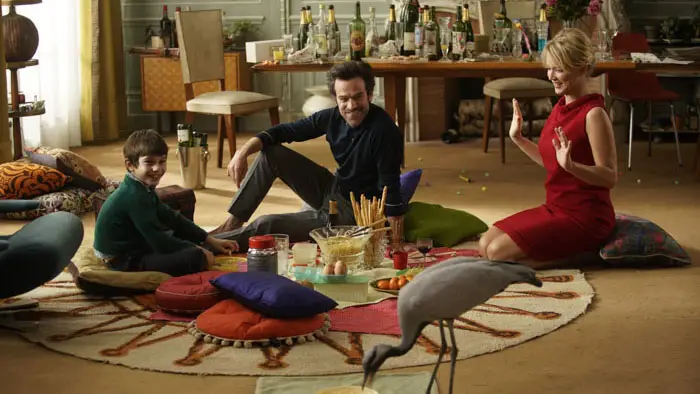 "…the Fouquets see their home upended…Camille begins losing her already tenuous grasp on reality…"
Of course, a story like Waiting For Bojangles can only end in one way. Despite this, Roinsard ensures that audiences are with the leads every step of the way, making the finale much more heartfelt and impactful. He accomplishes that thanks to a punchy script and superb pacing (the film runs over 2 hours, but one would never know). Certainly helping matters is the exquisite cinematography by Guillaume Schiffman. He captures their large abode beautifully while highlighting Georges and Camille's passion in every dance scene.
Of course, the great script and excellent directing wouldn't mean a thing if the cast was not up to the challenge. Happily, every actor delivers a wonderful, poignant performance. Duris, perhaps best known Stateside for his role in the fabulous Mood Indigo, is a revelation here. He's charming, handsome, intoxicating even, and audiences are just entranced by him and his lifestyle, as are those around this fictional character.
Efira matches her co-star's energy beat for beat. In a scene where Georges and Gary visit Camille in a facility, and she plays a prank, the heartbreak on her face after seeing her son's reaction is stunning. Graner is tremendous as the young boy caught up in beautiful but crazy circumstances beyond his control.
Waiting For Bojangles is mesmerizing from start to finish. If one enjoys Love Me If You Dare (which this shares a good number of sensibilities with) or A Very Long Engagement, then Roinsard's elegant, fantastical romance is for you. As long as you believe in the power of love, you'll get swept away in the grandeur of these characters and their amazing tale.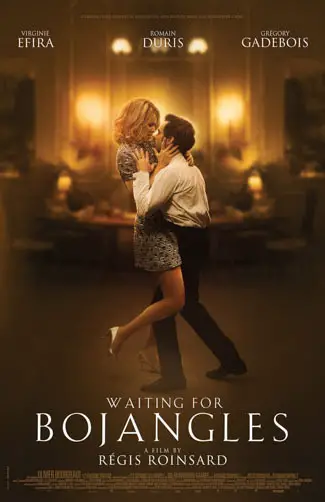 "…mesmerizing from start to finish."