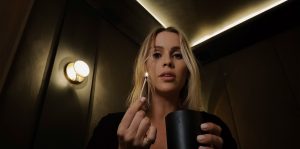 I admit that I groaned when I started watching director Nick Simon's horror-comedy Untitled Horror Movie. After a year of interacting almost entirely via computer screens and phone apps, another film shot almost entirely on Zoom did not seem like an inviting proposition. Yet, as the story progressed, it won me over with its sharp sense of humor and a game cast. It may not escape the inherent constraints of a "Zoom movie," but it sure gives it a good shot.
When dashing young actor Declan (Luke Baines) breaks the news about their lucrative TV show being canceled to his fellow thespians – Chrissy (Katherine McNamara), Alex (Emmy Raven-Lampman), Kelly (Claire Holt), Kip (Timothy Granaderos), and Max (Darren Barnet) – they understandably panic. Luckily, Kip comes up with a plan: to make their own movie about a spirit that attacks people who sin. "That's literally everyone," Kelly, a cynical box-office star, snaps.
Nevertheless, they agree to do it, each shooting a demonic possession scene based on Kip's frankly terrible writing. "This demon has zero intention," Alex intones. Soon, a real spirit invades the virtual shoot: Chrissy slaps herself silly, pendulums turn out to be vessels of evil, and cellphones seem to have minds of their own. Just when Netflix itself expresses interest in their remarkably realistic film, our heroes discover that the spirit must run its course, and they all basically have to die.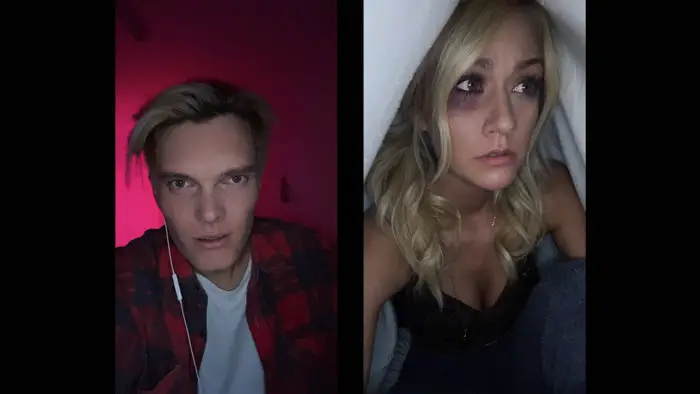 "…a real spirit invades the virtual shoot…"
Okay, so the plot of Untitled Horror Movie, as meta as it is, happens to be only marginally better than the cheesy plot its characters concoct. Self-awareness only takes the production so far. Don't come looking for scares either: possessed narcissistic actors choking themselves over and over isn't all that frightening. The script, by Luke Baines and Nick Simon, just can't find any new, intriguing ground to cover.
As a comedy, however, the feature is infinitely more effective. Not only does the cast boast a snappy repartee and sparkling chemistry, but they also perfectly represent/satirize the current Generation Z, with the pop-culture references, blasé attitude, and self-obsession, all prevalent amongst aspiring L.A. actors. "I was listening to Kevin Smith on the Joe Rogan podcast," a character states, to which another replies: "Was a mullet required to listen to that episode?" "I trained for this," Chrissy says, dead-serious, picking up a samurai sword. It's difficult to single anyone out, as the entire ensemble shines.
The director also finds several ingenious ways to play with the limited equipment and cast. Someone's computer dies at the worst moment. Another inventive scene finds a character holding up his phone during a Zoom call so that everyone else can see the intense happenings, live, on its screen — a film within a film within a film. Very meta, Mr. Simon.
The score of Untitled Horror Movie is borderline intrusive at times, and over an hour of Zooming, as hard as it tries to be cinematic, grows wearisome. That said, Simon proves he's as skilled with actors as he is with writing their dialogue. Now let's see him make an actual, you know, movie… with a title and everything.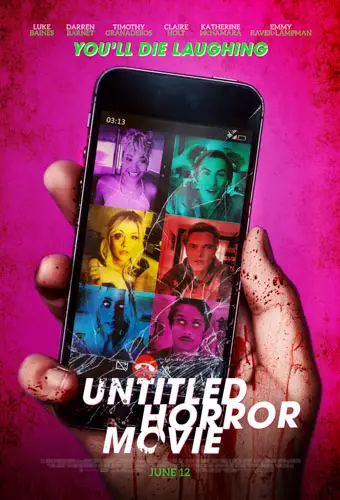 "…finds several ingenious ways to play with the limited equipment and cast."