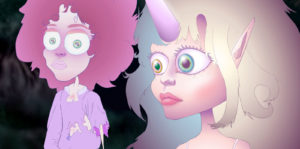 SLAMDANCE FILM FESTIVAL 2023 REVIEW! Unicorn Boy begins with real-life footage of writer-director Matt Kiel making a personal admission from 2016: "I need to like actually feel like I'm changing, like I'm becoming who I'm supposed to be." And before we even have time to process this statement, we're thrust into an animated world alongside Matty, a character based on and voiced by Kiel.
Animated with moderately red, curly hair and enlarged, expressive eyes, Matty's vibrant appearance stands out in an apartment setting with hints of light pink and harsh white. There are faint outlines of vases, windows, and furniture, but Matty commands your attention. They peer out the window for a few moments before sitting on a couch as they hold a mug. Finally, Matty looks exhausted and gently throws their phone in frustration.
Then, a fleet-footed unicorn suddenly appears and wreaks havoc in Matty's living room. There are rainbow streaks everywhere, and Matty could not be more confused. Before being sure of what exactly transpired, the unicorn is gone. Matty goes about their day, meeting up with eccentric friend Sethward (the comedian Sethward). The friends talk about happenings in their lives. Matty is troubled by a recent heartbreak and is struggling with their identity. Then the unicorn returns, taking Matty to another dimension. This new dimension brims with color. This world's mountainous, verdant topography is gorgeous, home to magical creatures, big and small. During Matty's trek through the uncharted, fantastical dimension, they contemplate their happiness and gender identity.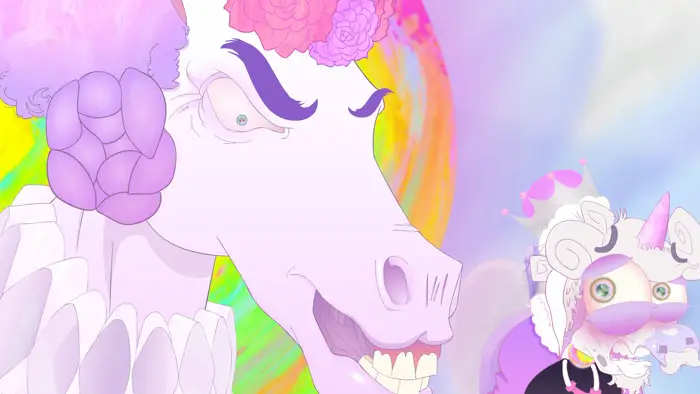 "…the unicorn returns, taking Matty to another dimension."
Unicorn Boy is suffused with pastel hues and a breezy style with emotional undertones. It's evident that so much love and effort went into making it. The ethereal world that Kiel creates is radiant and striking. From the creature designs to Matty's characterization and the squashing and stretching of the characters and their expressions, their commitment to smaller details and a robust character arc solidifies their talent as an animator and storyteller.
Plus, this journey of self-discovery is brimming with pleasant absurdities. There are wacky characters that fly, shape-shift, and metamorphize. Sometimes the attempts at comedy fall short, but everything is animated vividly, nonetheless. Halfway through, Matty's back to reality, and the film begins to run low on fuel. However, Kiel regains momentum with an enjoyably frenzied, rainbow-drenched finale that strengthens their intention to show that being true to yourself, while never easy, is rewarding and empowering.
Kiel's voice finely imbues the character of Matty with hesitancy and discomposure — but not to the degree that they're ever unlikable. Sethward is a fun addition to the cast, whose droll delivery is one of the better attempts at humor. The voice-acting all-around is outstanding, but Patton Oswalt especially, whose voice is so welcoming and recognizable that his delivery alone enlivens a rather syrupy monologue at the end.
Unicorn Boy is a heartfelt and comical undertaking of what it means to be content in your own skin and gender identity. Sometimes it takes a little imagination and perspective to figure out who you are. That's exactly what Kiel does, hoping to inspire others to embrace their true self, whatever that may look like.
Unicorn Boy screened at the 2023 Slamdance Film Festival.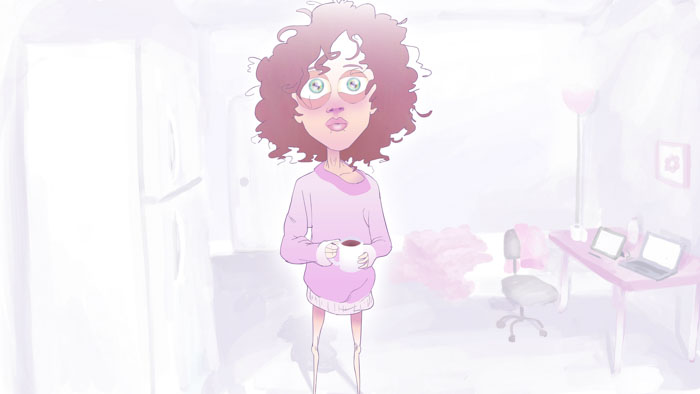 "…suffused with pastel hues and a breezy style..."