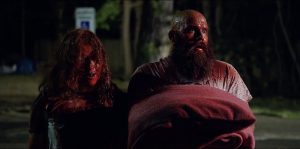 The band DUH is an up-and-coming punk rock band from New Jersey that, after paying its dues for years, is finally up for their big break. After their van is repoed, and hopes of finally going on tour look dismal, they meet the titular Uncle Peckerhead (David Littleton). He offers the transportation they need and much more. DUH, consisting of Judy (Chet Siegel), Mel (Ruby McCollister), and Max (Jeff Riddle), learns quickly that life on the road will prove to be much more difficult than they had ever expected. There is much more to Peckerhead—both good and bad—than appears on the surface. With their new understanding of who Peckerhead really is, their journey becomes much more interesting. 
Uncle Peckerhead combines humor and horror as I've never seen before. Writer-director Matthew John Lawrence appears to do everything in his power to create a film that is plagued with inadequate acting, ridiculous storylines, and a series of disconnects between the characters and the viewers. In most cases, it would be easy to say that a film containing the previously mentioned aspects would fall flat on its face and fail to entertain in any way. Weirdly enough, this is not the case with Uncle Peckerhead.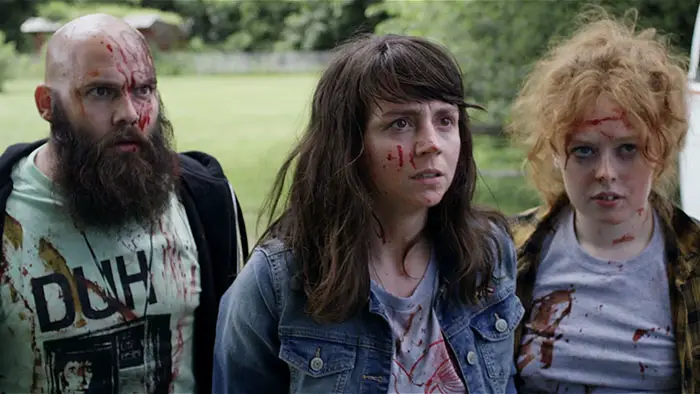 "…much more to Peckerhead—both good and bad—than appears on the surface."
Early in the film, it is hard to follow along as the story drags, struggling to appeal to nearly any viewers. The early makings of the band DUH are almost cringe-worthy, and not in the intentional "maybe this will work," sort of way. I was sure to find a film that is incapable of entertaining me. All of a sudden, Uncle Peckerhead takes a turn for the better. The acting doesn't get any better, and honestly, neither does the story. However, the introduction of Peckerhead seems to be the fabric needed to tie all these disparate parts together. The charismatic, easy-going, and intelligible character sparks the rest of the film and the characters, making it significantly more enjoyable than I had ever expected. Littleton alone is able to interest audiences and allows them to appreciate what Lawrence so brilliantly constructed. 
The story also delivers numerous laughs as it takes audiences down a rabbit hole drenched with blood and inappropriate humor. Somehow the ridiculousness keeps audiences engaged and begging for more. Viewers are able to appreciate the effort put into making the film so absurd, because, without the beautiful juxtaposition of raunchy humor and gritty acting, the film would find little to no success. The oddities that make the film what it is are unique and tantalizing, creating what is sure to be a cult following. 
Weirdly, Littleton's presence as Uncle Peckerhead is unusual, mediocre, and unappealing in many ways. His ability to convey emotion is almost nonexistent and, if it weren't for Lawrence's ability to make the film's flaws work in its favor, audiences might have found Littleton's performance difficult to appreciate. Again, Lawrence flips the script on what might typically be considered unbearable and allows viewers to appreciate the many flaws and the film as a whole. There is much to enjoy about the film, but Uncle Peckerhead finds success thanks, almost entirely, to Lawrence's ability to write, direct, and edit.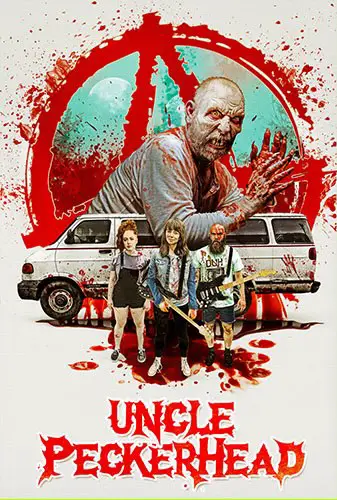 "…...[Lawrence] allows audiences to appreciate the many flaws…"