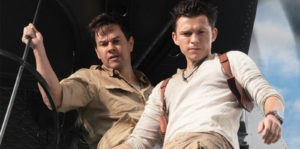 It didn't take long for Hollywood to adapt another video game into a movie franchise. This has been an ongoing mission for as long as video games and movies have been around. However, cinema tends to struggle to find the balance in bringing these properties to life while adding something fresh to the adaptation. Unfortunately, there seems to be no signs of slowing down. If Mortal Kombat (2021) gave insight into the downward spiral we'd be on, Ruben Fleischer's Uncharted is what happens when that slope runs out and ends with a perpetual fall to quality hell.
The film follows Nathan Drake (Tom Holland) on his journey to find the Magellan treasure. This adventure started as a quest with his older brother Sam (Rudy Pankow) to bring glory to their ancestor Sir Francis Drake. But after Sam's disappearance, in walks Victor "Sully" Sullivan (Mark Wahlberg), his former fortune-hunting partner. He offers to help Nate search for both the gold and Sam. Together, they pair up with Sully's partner Chloe Frazer (Sophia Ali) to embark on an underwhelming escapade that borrows from its source material but leaves quality behind in the process.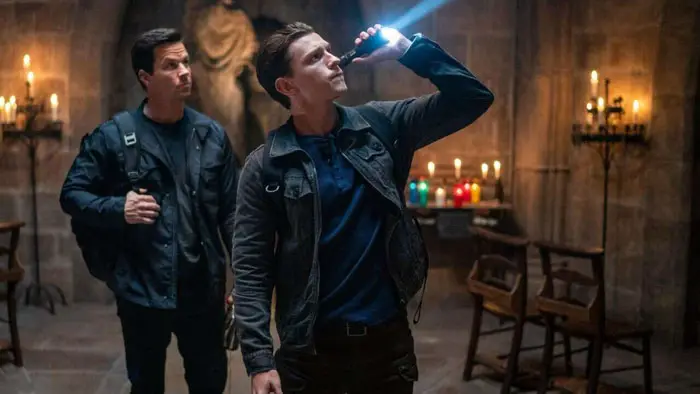 "…follows Nathan Drake on his journey to find the Magellan treasure."
I can't say I'm surprised. Naughty Dog's beloved and thrilling game series laid a great foundation of what a franchise could be. But unfortunately, the film refuses to lean in on some of the game's best features. What's worse is that it's not for lack of trying. Indeed, scenes throughout Fleischer's adaptation pay heavy homage to the games. Set designs and action sequences, for example, outshine the oversimplified treasure hunting aspect. But the real disappointment here lies in the team's attempt to reveal an origin story but falling short of an effective one every step of the way.
Whoever's call it was to go this route needed to consider two questions. How do we appease the game's fans and reel in new audiences with the Uncharted movie? Something tells me that "do the bare minimum" wasn't explicitly stated in the writer's room, but it's exactly what appears to have happened. The reasons for this depiction resulting in an inadequate version are too obvious to ignore. They simply tried to do too much too soon.
One of the easiest things to consider when explaining how the three writers (Rafe Judkins, Art Marcum, and Matt Holloway) managed to overstuff this film and underwhelm simultaneously is to take you back to the first Uncharted. The foundation for what great storytelling could be was there for the production team's disposal. There were great characters, sure. But the important thing we fans got to experience was the connections between them. That meant spending time developing their relationships, observing how they operate in the line of fire, etc. As a result, fans established connections to the characters long before supporting roles were even created.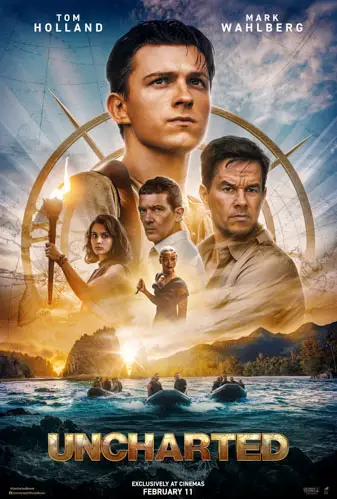 "…Naughty Dog's beloved and thrilling game series laid a great foundation..."