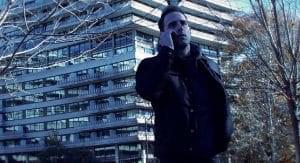 Passion projects are almost always some of the most interesting movies to watch. That same intangible force that drives someone to tell a specific story can leap off the screen and captivate an audience; although, sometimes it is not in the manner the filmmakers intend. There is a reason why even terrible films whose every frame showcase the inner workings of the writer/ director become cult favorites. So, where does writer-producer-cinematographer Harold Jackson III's Unarmed Man fall in the pantheon of passion projects?
Police Officer Greg Yelich (Danny Gavigan) is giving a statement, which is being recorded after he shot an unarmed man. That man, Cordell Pierce (DeWayne Foote) was African-American, and the cop pulled him over under false pretenses. However, James did tell Officer Yelich that he had a gun the car, and Yelich believes he saw the man go for the gun. In fear for his life, he shot James five times…with his girlfriend (Tia Dae) and daughter (Peyton Reavis) also in the vehicle.
"…Yelich believes he saw the man go for the gun. In fear for his life, he shot James five times…"
Now, Yelich is being investigated by Aaron Williamson (Shaun Woodland), who is prompting the statements with questions. The questions are to narrow down and focus on why the officer felt his life was in danger. Was this simply a police officer protecting himself during the line of duty? Alternatively, is there something more in-depth, and far worse, behind Greg Yelich's actions?
There is really no getting around politics or police culture with Unarmed Man. The opening of the movie splices in true-to-life incidents of police officers overstepping their authority and using excessive, sometimes lethal, force. The use of such videos, coupled with a modicum of President Trump's aggressive, angry rhetoric and the direct aftermath of those words (i.e., violence towards others) will undoubtedly piss a few people off. The unjust and unwarranted killings of innocent people of color will set off everyone else. All in all, the film is primed to start an earnest, intense, and possibly uncomfortable dialogue about life in the United States of America if you are not white.
Throughout the film, statements made by either the investigators, police, or witnesses sound as if taken directly from transcripts of these real tragedies. That authenticity and detail are throughout the script, which is Jackson III's strongest asset. The man knows how to write dialogue that is believable and engaging. He also created strong, interesting characters. Yelich truly believes what he did was justified, and that is has nothing to do with race. Aaron, who is African-American, becomes increasingly irate, especially as more facts come to light. His frustrations are not only understandable given the circumstances, but feel justified.
"…is primed to start an earnest, intense, and possibly uncomfortable dialogue about life in the United States of America if you are not white."
Where Jackson III does stumble a bit is in the directing. There are moments with a news reporter where the green screen effects are laughably bad, which does not jive with the rest of the tone of the movie. Plus, the cutaways from the interview/ statement to the girlfriend, Deena, on the news doing an interview is a little haphazard. It certainly does not help that Tia Dae is not the least bit convincing as a grieving woman.
Luckily, she is the only casting snafu. Woodland and Gavigan are absolutely stellar as the investigator and cop, respectively. When Yelich is asking his partner, who was present during the shooting but did not pull his gun if he has ever wished to take back a moment in his life, Gavigan comes across as desperate and empathetic in equal measure. Creating a charismatic figure out of such an impulsive personality is not exactly easy, but he manages it with dignity. Woodland is just as phenomenal. The calmer he says his lines, the more intense things become. That the two leads share a natural chemistry help tie their arcs together in a big way.
With a few tweaks to the script, this could make an outstanding stage play. As it stands though, Unarmed Man is a decently directed film with grand ambitions. That it has something to say on the current state of society's trust of the police (and how that ties into the current presidential administration) is a quality unto itself. That Harold Jackson III's script has crackling dialogue and a fantastic cast (with one exception) helps it overcome the limited directing skills on display.
Unarmed Man (2019) Directed by Harold Jackson III. Written by Harold Jackson III. Starring Danny Gavigan, Shaun Woodland, Tia Dae, DeWayne Foote, Peyton Reavis.
7.5 out of 10 Badges