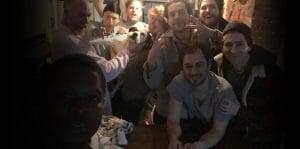 The key to Tyrel, Sebastian Silva's shrewd and timely racial tension drama, is the patois. "P***y!" the men, spending a weekend together in a remote cabin, will yell when someone refuses to perform any of a number of dumb stunts. "Yeah, man," "sure, bro," they'll say at other times, slapping each other on the back in faux fraternal friendliness. Tyler (pitch perfect Jason Mitchell) is an outsider in the group — he was invited to the weekend getaway by his friend John (Christopher Abbott). He's also the only black guy in a sea of often ignorant white dudes. (One of them accidentally calls him "Tyrel.")
"…the only black guy in a sea of often ignorant white dudes."
For Tyler, the weekend proves to be an exercise in control, and the film charts his mounting discomfort and anger over the course of the degenerate two-day affair. Drinking and drugs and wrestling and slashing a Trump piñata with a machete are a few of the activities in which the men partake — all ripe for aggression in both micro and macro form. It's the weekend of Trump's inauguration, and the yellow-haired piñata dangling in the kitchen holds watch over the debauchery and reminds us that much of the idiotic banter and belligerence stems from misdirected anxiety.
There is little concern for a traditional plot; a splashy denouement never really arrives. But Silva has an aptitude for subtle, organic dialogue, and the nuanced repartee among the group is more gripping than any conventional theatrics. Still, there's a limit to the amount of assholery that anyone is able to laugh off, and when Tyler finally does snap, the moment is unexpected and intoxicating.
"…half-praising the "a******s" for their smugness and audacity."
Silva is careful not to render Tyler too righteous. His behavior can be as problematic as the rest of the guys — the difference being that we're able to trace Tyler's erring directly to his unease.  "It's okay, these guys are a******s," John says with a smile when he senses Tyler's discomfort. But it's not an insult; in his bro patois, John is half-praising the "a******s" for their smugness and audacity. A finely gradated study of race and masculinity in the age of Trump, Tyrel is also an engrossing portrait of the revealing power of language.
Tyrel (2018) Written and directed by Sebastian Silva. Starring Jason Mitchell, Christopher Abbott, Michael Cera, Caleb Landry Jones, and Ann Dowd. Tyrel played as part of the U.S. Dramatic Competition at the 2018 Sundance Film Festival.
Grade: B+