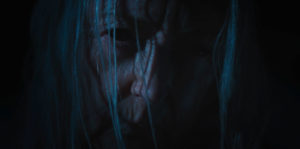 NOW ON TUBI! Prepare for a throat full of screams with the ultra-scary indie horror Trinket Box, directed by Patrycja Kepa and Acoryé White and written by them and Felipe Cisneros. It opens in present day, with a mysterious figure (Darian Fisher) cleaning up an empty house. On the mantle is a picture of a couple; the husband is black, the wife is white. We then see the figure dragging two bodies wrapped in plastic out of the house and into a van and a "For Sale" sign in the front yard.
We flashback to the 1930s, when little Mary Ann (Zia Carlock) accidentally spies her big sister Gracie (Judith Davis) in bed with her boyfriend Abe (Joe Anthony Gordon). Gracie tells Abe about all the dead witches buried on the property, not knowing her little sister is peeking. They both get caught by Gracie's father, James (Barry Ratcliffe), who goes berserk due to Abe being black while his daughter is white. That night, Mary Ann finds a box with strange carvings and a necklace inside. When she puts on it, she is filled with a dark force that has a huge grin.
Jumping back to the present day, we see Ava (Augie Duke) and Mike (Acoryé White) moving into the house seen in the opening. Several days later, right after Mike has left, an elderly woman (Sandra Ellis Lafferty) comes knocking. She asks Ava if she should call the police on the dark man that had just left. Ava informs her that was her husband. The woman then gifts Ava with a trinket box as a welcome to the neighborhood. The box has strange carvings, and a necklace is inside. When Ava puts the necklace on, very weird things start occurring.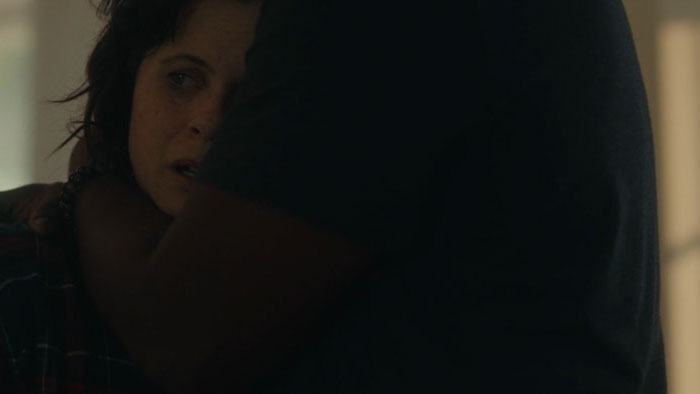 "…Ava puts the necklace on, very weird things start occurring."
Trinket Box is one scary picture. There is an instinct at work that holds your nerves in the palm of a clawed hand that keeps clamping down. The cinematography by Shaman Harsha does the devil's work with clever use of cross-focus that keeps the blurred portions of the screen menacing. The vocabulary used for the frights will be familiar, as the movie utilizes 21st-century horror devices that are almost classic now. The images of eyes rolling back with loud bone-crunching noise is to modern-day what the old spooky house with lightning flashing was last century.
So while a seasoned viewer may spot elements similar to other horror titles, they're put together in ways that are sometimes more startling than the originals. Some folks crave originality, but if the well-worn tools still draw blood, keep the toolbox. Also, horror fans will rejoice when they see Mike constantly doing sensible things. Anything one would yell out for a character to do on the screen, he does repeatedly. Is the necklace a problem? Let's take it off.
The script excellently intersperses empathy and dread. Instead of front-loading the character-building and then unleashing the beasties at the end, the scares come early and regularly amongst solid stretches of drama. One usually doesn't comment on the quality of the acting in horror films because most parts only require screaming, playing dead, or both. Here we have several instances of well-played realism that build sympathy but also show what the leads can do. Duke is a marvel; she ignites every facet she deploys. White also displays his chops with painfully intense moments that seem genuine. Some clever visual storytelling moments stand out, with images linking together in ways more rewarding than simple exposition.
 Mind you, Trinket Box makes sure you get the ending as the story draws it out until everyone in the room is crystal clear as to what's going on. So there are three finales to get through, just like the final Lord of the Rings chapter. But this is a tiny quibble floating in a bottle of bloody champagne. The movie is an excellent indie nightmare ride through some horrifying territory.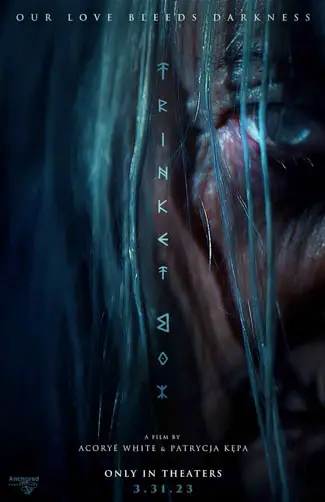 "…an excellent indie nightmare ride..."