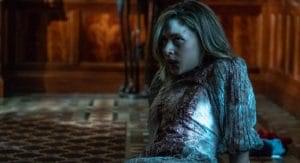 Tone Deaf starts with Olive (Amanda Crew) breaking up with her significant other and getting unceremoniously fired from her job. Frustrated with where her life is currently, she books a stay at a rather large home through an Airbnb-type site. The owner of the house, Harvey (Robert Patrick) recently lost his wife and moved just down the road, as there are too many memories for him there. Meanwhile, his son David (Ronnie Gene Blevins) fears that Harvey is slipping into dementia. The man denies this, claiming to be fit as a fiddle. Though, considering his plans to murder Olive, his son is right to worry. As Harvey plans how to off the young lady, Olive is trying to forget her woes.
After buying drugs at a car wash, she trips on LSD and sees a vision of her dead dad (Ray Wise). When Olive was very young, her dad committed suicide; the same manner Harvey's wife departed this mortal coil. Does Harvey scratch his itch to murder? Can Olive overcome her current misery and find the willpower to fight for her life?
The title Tone Deaf not only refers to the main character's poor piano skills; which is a rather wonderful running joke. It is also about how no two characters throughout the movie are ever on the same page. After buying the drugs, Olive calls her co-worker and best friend. Instead of focusing on her friend's current plight, Lenore (Hayley Marie Norman) is living it up at a party and taking home a handsome stranger. Harvey can't relate to his son, much less the younger generation of millennials that Olive represents. This is the most intelligent and engaging part of the script. Even better is that writer-director Richard Bates Jr. was smart enough not to call this out explicitly. It is something the audience may notice or not.
"Though, considering his plans to murder Olive, his son is right to worry…"
Bates Jr., who burst onto the horror scene with his brilliant Excision, presents many viewpoints and takes them all down a peg or two. This is admirable, but how it is presented is frustrating. Tone Deaf is structured like so — a sequence with Olive and the drama of her life, the intense horror, and shocking actions of Harvey (who kills a good family friend for discovering something dark), and then a comedy scene involving either a friend of Olive's or her mother. The thing is, each segment feels like it is from a different movie and they never gel.