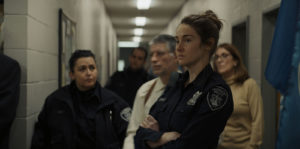 Well, To Catch a Killer is an odd one. It's not that the crime genre is uncommon, but rather that Damián Szifron, the Argentinian filmmaker behind Wild Tales, helmed this. Not only that, but it's also his first film since that seminal 2014 film. It's strange, for sure, but at the end of the day, this dramatic crime thriller is modestly successful and features a stellar cast. It's not a film that will set the world on fire (or be remembered a year from now), but it's one that satisfies the insatiable itch many of us have for movies with cops and robbers.
Eleanor (Shailene Woodley) is a young cop fresh out of the police academy in Baltimore. She's a beat cop at the bottom of the totem pole of the police department. While responding to a call about a stubborn client at a diner, she hears the unthinkable — a sniper attack is underway downtown. Nearly thirty people are ultimately killed, and in the aftermath, it's all hands on deck to find the killer. Eleanor manages to catch the eye of Federal Agent Lammark (Ben Mendelsohn) because of her ability to think outside of the box. They subsequently work together to find the shooter after Lammark demands Eleanor's promotion to the primary investigating team.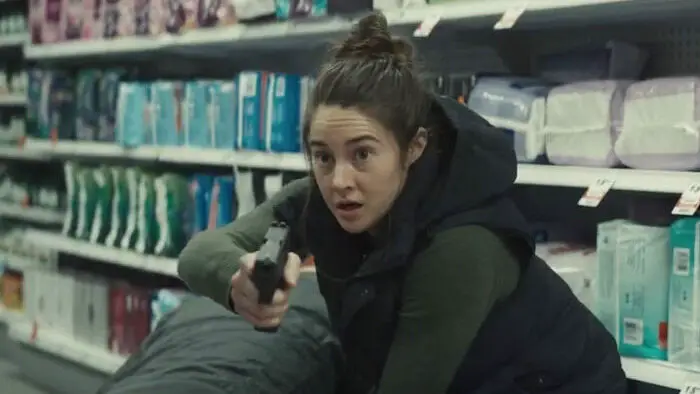 "…a sniper attack is underway downtown. Nearly thirty people are ultimately killed, and in the aftermath, it's all hands on deck…"
We've all seen movies To Catch a Killer before. There's the usual bickering between departments and local government officials, and Lammark fits the mold of the grizzly and misunderstood FBI agent seeking redemption. Even the final revelation of the killer fits relatively neatly within genre conventions. The location shooting leaves much to be desired. The setting is strikingly vanilla, and I suspect a lot of that has to do with the story being set in Baltimore but filmed in Montreal. These disparate elements contribute to a film that's lacking in distinguishable qualities.
And yet, I still enjoyed it. Not only do the action sequences pack a punch, but the performances of the two leads are also worthy of praise. Woodley is excellent as a troubled and inexperienced cop and is a natural in roles that position her as an individual in over her head. Her mature parts like this one stand out in comparison with the number of teen-orientated films she's done in the past. Mendelsohn, as to be expected, doesn't disappoint. He's right at home playing an angry federal agent hellbent on finding the killer above all else. The two headliners anchor the proceedings and are essential to making things gel into a relatively entertaining exercise in genre.
There's no shortage of entertaining moments in To Catch a Killer, but that won't stop audiences from wanting more. Other than the performances from Woodley and Mendelsohn, there's not a lot to grab onto, which would help distinguish this from countless other entries of this ilk. But hey, I, for one, rarely tire of cop movies — especially ones that include sinister serial killers. I'm just not sure that I'll remember this one in a month or two.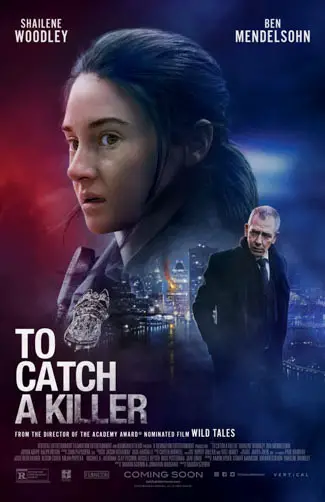 "…modestly successful and features a stellar cast."