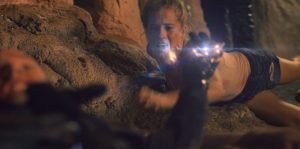 Time Trap begins with Taylor (Reiley McClendon) and Jackie (Brianne Howey) searching for their missing professor, Hopper (Andrew Wilson). Hopper went spelunking in a cave system which may hold the secret to the Fountain of Youth. The students enlist Taylor's friend Cara (Cassidy Gifford), her younger sister Veeves (Olivia Draguicevich), and Veeves's overzealous schoolmate Furby (Max Wright) to aid in their quest.
The group finds Hopper's car and a rope leading to a series of cavernous tunnels. They leave Furby, who is documenting the trip, as a lookout in case something happens. Everyone else repels down to look for clues. While exploring, weird noises occur over the walkie-talkies. Taylor suspects Furby is messing around, but upon seeing the ropes split and cut on the cave floor, the friends begin to worry about Furby.
Cara free climbs out and takes video of an almost unrecognizable landscape, but upon going back down, the others question her, as she was gone for one minute. Confused, Cara shows them the video she took of her time on the surface. As they dissect the video frame by frame, it dawns on everyone that ten seconds in the cave is more than a year above ground. Taylor, Jackie, Cara, and Veeves decide to continue searching for Hopper, as he might know how to get them back to their own time.
"…spelunking in a cave system which may hold the secret to the Fountain of Youth."
Written by Mark Dennis, who also co-directs with Ben Foster (no relation to the actor of the same name), Time Trap's screenplay is intelligent and wildly fun. But, there is one issue with the film, and that is the ending. Throughout the film, a growing sense of desperation and despair mounts, until a visually remarkable sequence close to the end shows the Fountain of Youth proper. However, the final few minutes of this sci-fi mind-bender clean everything up far too tidy and neatly. Without spoiling anything the ending is entirely wholesome, which makes it feel like a cop-out that does a tiny disservice to the tone and atmosphere Time Trap has been setting up from the first frame.