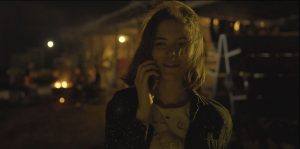 American Waste is about Joan (Ainsley Seiger) and Miles (Patrick Monaghan), a happy couple longing for more. She is an artist, scraping by working at a junkyard while waiting to hear back from a few galleries about displaying her work. He's encouraging and clearly loves her, but something is holding their relationship back.
See, Joan wants to move to the big city, away from this nowhere place, to pursue her passions. Miles is not certain that they are truly ready to leave their livelihood and friends. Joan may not be so confident as she comes either. Is uprooting from the only home they've known the best course of action for the young couple?
Written by Bridget Anderson and Jordan McLaughlin, and directed by McLaughlin, American Waste is plotless in the same manner as Clerks. Things happen to or around the leads, but the focus is not on the action. It is a character study much more interested in what is being said or left unsaid. On this front, the dialogue comes across as unforced and natural.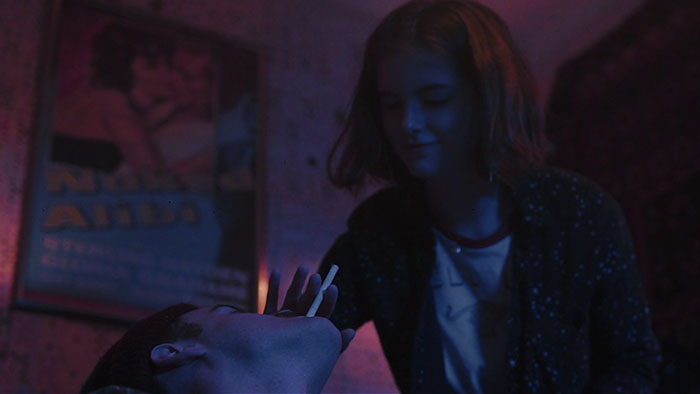 "…an artist, scraping by working at a junkyard while waiting to hear back from a few galleries…"
Hanging out with some friends, Joan declares that she is not the only one tempted to leave. Jean, the friend in question, quickly shuts this train of thought down, stating that she is not ready to be so decisive (paraphrasing). The entire conversation feels authentic.
The short film opens with some grainy footage of two people, later revealed as Miles and Joan, cavorting about town. Then, in a seemingly unbroken shot, the camera pulls out of the television and circles the room until landing up the couple on the couch. They were watching some old tapes of their exploits. While the most impressive shot in the film, McLaughlin's style throughout is entrancing. When Joan is walking from her apartment to the junkyard, the lighting is immaculate, and the film slowly pulls the audience into its beat-up, rundown world.
Seiger excels as Joan. She projects certainty to the others while quietly showing the underlying fears of her character. She and Monaghan are good together, sharing a sweet chemistry. When Miles calls into a show to ask for advice, his adoration of his significant other but timidness of new things shines in full force.
Given the brief runtime of American Wasteland, at just under half an hour, what the movie lacks in rewatchability, it makes up for with sincere emotions. The directing is grand, the acting is excellent, and the screenplay flows naturally with good humor and strong characterizations.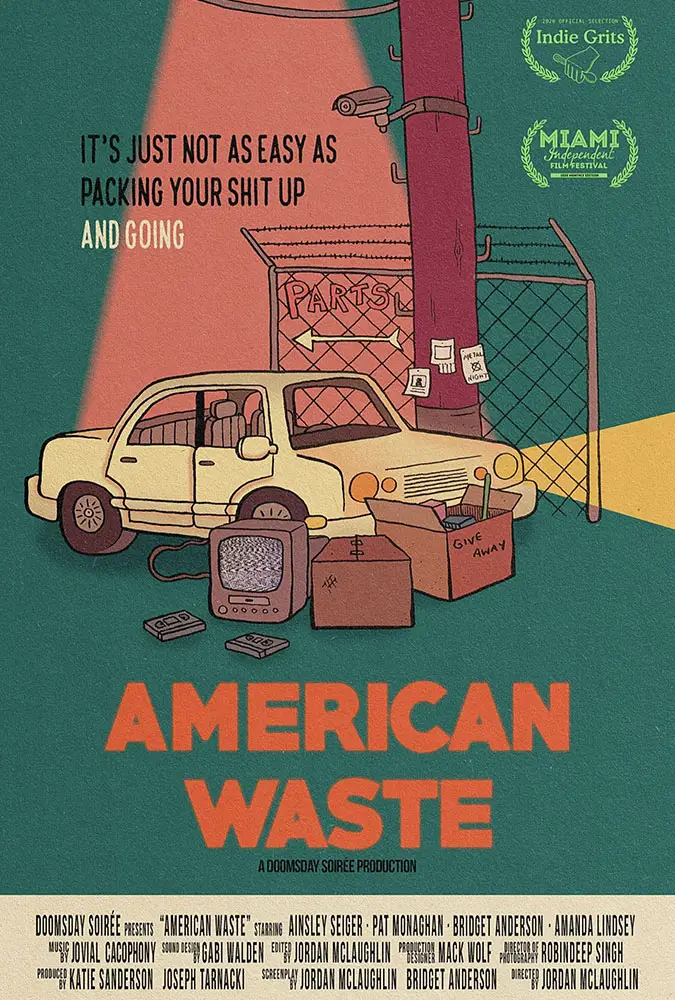 "…the screenplay flows naturally with good humor..."