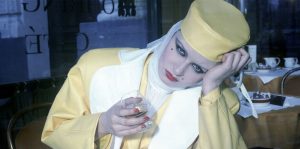 WE ARE ONE FILM FESTIVAL REVIEW! The German title for Ticket of No Return is Bildnis einer Trinkerin, which translates to "Portrait of A Drinker." It's important to mention this because Ticket of No Return at the most basic level IS a portrait of a drinker. Tabea Blumenschein plays Sie (German for "She"), a nameless, voiceless woman dressed to the weirdest of nines. A voiceover tells us at the beginning as a Pan-Am plane lands that Sie has planned to come to Berlin to go on a drinking tour of the city and more than likely drink herself to death. This is no Leaving Las Vegas, however. Ticket of No Return is a picture-perfect '70s experimental film that is reminiscent of what a mash-up of Ranier Werner Fassbinder, Alejandro Jodorowsky, and Luis Bunuel would look like.
When I say this film is experimental, I'm not kidding. Sie never speaks, she instead uses mimicry or nearby voiceovers to express her opinion when she's not doing what she loves most, drinking. She meets a bag-lady and takes her under her wing as a drinking buddy, giving her a make-over and allowing her to stay in her home. The two go on a series of incredibly weird adventures, attending a Demolition Derby, an event where a drag-queen is walking a tightrope, and an impromptu Nina Hagen performance in a dive-bar. Nina Hagen joins Sie and her companion, named Trinkerin vom Zoo (translates to Drinker from the zoo), played by Lutze.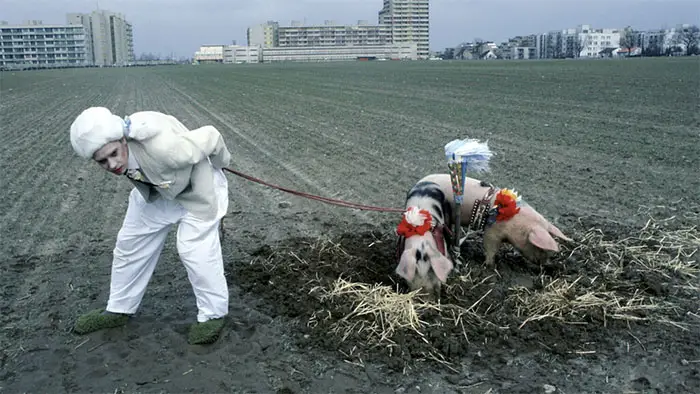 "Sie never speaks, she instead uses mimicry or nearby voice-overs to express her opinion…"
The weirdness doesn't stop there. Sie is constantly followed by a group of sociologists that talk about the dangers of alcoholism in women. Sie brushes them off and keeps on drinking. Trinkerin vom Zoo ends up meeting Direktor Willi at a bar while Sie drinks alone. Direktor Willi is played by Günter Meisner, aka Mr. Slugworth from Willy Wonka and the Chocolate Factory. There is a bizarre dinner with mountains of sausage and sauerkraut accompanied by a yodeller. Eddie Constantine makes a cameo at a bar where Sie and Trinkerin vom Zoo are joined by a man in a yarmulke covered in challah bread accompanied by a woman who keeps eating the bread off of his clothes.  There's a little person who functions as Sie's (maybe) butler who ends up disappearing some point halfway through. There's a boat called "Moby Dick" that is designed to look like a whale. I could go on.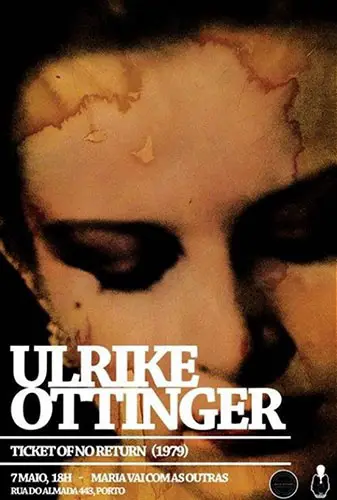 "…a complete mish-mash of funny and devastating events that could only occur in the lifetime of an alcoholic. "