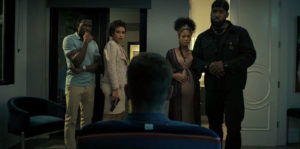 SXSW FILM FESTIVAL 2022 REVIEW! Director and co-writer Mo McRae delivers an entertaining yet powerful statement in his dark comedy A Lot of Nothing. James (Y'lan Noel) and Vanessa (Cleopatra Coleman) are an affluent black couple, happily married and successful. They are both attractive, well-heeled, well-educated, and are enjoying upper-middle-class American life. James is an attorney, and they both acknowledge the ethical compromises they must make to stay successful in a culture that still struggles with racism and inequality. As a result, they've made an uneasy peace with the choices that keep them financially comfortable.
Their equilibrium is rocked watching the news one night when they see a video of their white police officer neighbor, Brian (Justin Hartley), shooting a young man to death at a traffic stop. They are outraged, feeling powerless in the face of ongoing, terrifying police brutality that has literally landed at their doorstep. This time, they determine, will be different, and they must take a stand. Alcohol flows as they prepare a flame-war worthy social-media statement. Their rage morphs into an erotic overture that includes shocking roleplay with a handgun, culminating in rough sex that seems to take the fire out of their intent to "do something."
"…the policeman is duct-taped to a lawn chair in their garage while the couple tries to decide their next move."
In the calm of morning, they both agree that some action should be taken, more than posting on Facebook, with Vanessa favoring a much more aggressive and confrontational approach. Later that day, while James is working out, Vanessa returns with groceries when she sees Brian in the yard. She confronts him, and he threatens her with arrest if she trespasses onto his property. This moment both terrifies and thrills her, and Vanessa asks him if he's going to shoot her.
James is a legal negotiator, accustomed to de-escalating emotionally combative adversaries, but finds his skills and confidence fade in the face of criticism from his beautiful wife. Vanessa takes on a Lady Macbeth aspect as she urges him to violate boundaries he would not, by himself, dream of crossing. When she tells James what happened, he decides to go next door to smooth things over. Unfortunately, Brian is in no mood to negotiate nor to make nice with his neighbors, so when things get heated, he reaches toward his back… at which point Vanessa steps up with the handgun and takes him hostage.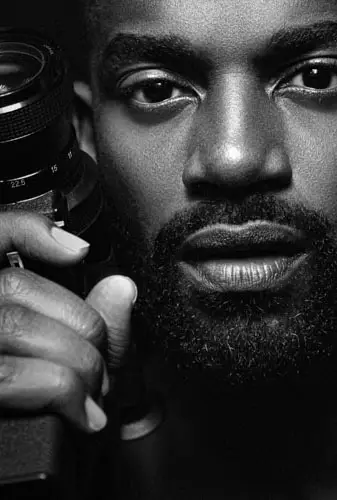 "…plays with our assumptions around justice and race."