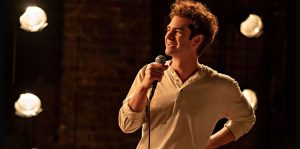 NEW TO THEATERS! tick, tick… Boom! is the film adaptation of the play based on Jonathan Larson's one-person musical. I'll say upfront that if you don't like musicals and despise all things Broadway, you'll want to pass on Lin-Manuel Miranda's directorial debut. The other thing is: who knew Andrew Garfield could sing?
Jonathan Larson (Andrew Garfield), the epitome of a struggling artist, is about to turn 30. Thirty is a milestone year, and he has yet to produce any work. Just before his actual birthday, Jonathan has the opportunity to workshop his sci-fi, dystopian musical, Superbia, to friends and interested producers. But the play is not ready, and he's having a bit of a meltdown.
His best friend, Michael (Robin de Jesus), who came to New York as an actor, is now a marketing executive and moving to a luxury apartment, leaving Jonathan without a roommate. In addition, his girlfriend, Susan (Alexandra Shipp), is tired of Jonathan's divided attention between producing the musical and everything else. On the other hand, Jonathan is experiencing severe writer's block for a song he needs for his main character, as suggested to him by Stephen Sondheim (Bradley Whitford). Can Jonathan pull off his workshop and become rich and famous?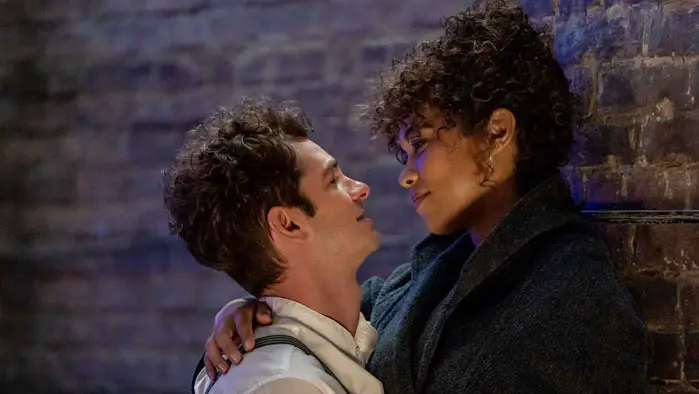 "…Jonathan has the opportunity to workshop his sci-fi, dystopian musical…"
There's a lot to like about tick, tick… Boom! and one serious flaw. Let me start by saying I'm a big fan of Rent. That's pretty much all I know about Larson's life. I've never heard of his titular one-person musical, nor the play based on that show. All to say, I can only speak to this film and can not make any comparisons to the original work.
First, I like how it's structured. It opens on Jonathan's original performance in a small theater box. He's at the piano with a rock band and two backup singers, Roger (Joshua Henry) and Karessa (Vanessa Hudgens). This is interspersed with scenes of Jonathan, Michael, and Susan and serves as a commentary of Jonathan's life, particularly the deterioration of his relationship with Susan.
Sondheim plays a significant role, and Whitford makes a dead-on impression. It's as hilarious as it is incredible. There's also an homage to Broadway in a dream-like sequence called Sunday, a parody of Sunday in the Park with George. The song features some of the greats, including Bernadette Peters, Joel Grey, Bebe Neuwirth, Chita Rivera, and many more. Unfortunately, as much as I like musicals, I'm not a Broadway snob by any means, so half of the cameos were lost on me.
I saw tick, tick… Boom! with a lot of Broadway fans. There was a lot of cheering when certain people appeared on screen. All that was lost on me and will be lost on most of America. Much of this feels like it's for a specific, devoted crowd, and a lot of time and energy honoring Broadway is wasted on the average viewer. I'm not a fan of this "not meant for you" feeling.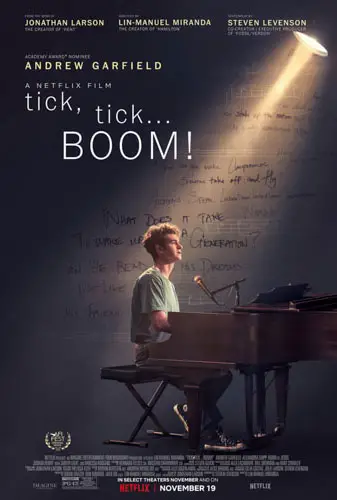 "…Andrew Garfield is a revelation as a singer..."