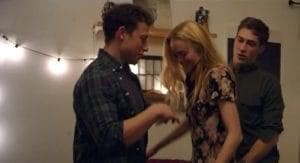 Screwball romantic comedies have surged and waned in popularity since at least the 1930s, and some manage to find some surprising, if not ridiculous, ways to ramble into uncharted territory. That's the case with Threesomething. Just when we think we know where it's going it takes a strange and unexpected turn that might amuse or perhaps repel some audience members. What starts out as a fairly average, if not kinky, romance comedy, Threesomething ups the ante with an odd and rather silly twist, which to avoid revealing a major spoiler I won't mention here.
Charlie (Sam Sonenshine) and his friend Isaac (James Morosini) plan to invite Charlie's friend Zoe (Isabelle Chester) to dinner with the ulterior motive of having a threesome. Zoe is game, and after some dinner chatter and a bout of weeping on the part of their female guest, they get down to business. But things don't work out well for Charlie, who ends up the third wheel in what turns out to be a whirlwind romance between his buddy and the blonde, attractive, if unstable, Zoe.
Dejected, Charlie broods and brings his troubles to his mother, of all people. Surprise, surprise, she confides in him that she had a similar experience in her younger and wilder days, all of which is plainly a lot more than Charlie wanted to hear about.
"Charlie and Isaac invite Zoe to dinner with the ulterior motive of having a threesome."
This darkly humorous take on modern relationships pays attention to the dynamics going on among the three main characters, each of whom is struggling with self-doubt and confusion about relationships, and perhaps adulthood. In this case, the slightly off-kilter trio's scrambled thinking leads to a number of comic moments.
Isabelle Chester is especially effective as the emotionally needy and delusional Zoe, who equates Isaac's tendency to cave in to her every whim as a sign that he's the perfect romantic match for her. She's been getting over a difficult breakup — we can gather that she's had a number of them — but here she goes again. They decide to wed, sort of, and the homemade ceremony they concoct is a hoot.
All three of them seem to be at a loss when it comes to a stable relationship. Neurotic Charlie is extremely hesitant to make any sort of move toward initiating a romance, while his two friends are both missing the fight-or-flight gene. Isaac is the spark plug whose engine is set at high rev, and Zoe is naive and desperate enough to rationalize any half-baked idea. They throw caution to the wind and charge in. Presumably, they'll smooth over any rough terrain they encounter when problems present themselves — an ambitious plan for a couple who hardly know each other.
"…not an ideal relationship, but sometimes that's as good as it can get."
Soon after the lovebirds get together, doubts begin to set in. Isaac plans to settle into Zoe's weathered house in the Hollywood Hills, with its leaky roof, but he goes off alone on a hiking trip to collect his thoughts. While away, Charlie visits Zoe, and things between them begin to happen, but probably not in the way you'd think.
When Isaac returns from his camping trip to the mountains he settles in, oblivious to the sea change going on around him, and life goes on, but things get mighty peculiar.
A particularly silly sight gag is used to drive home the film's point, or in this case, its punchline. It's a strange and unsettling conclusion to a tale of young adults in L.A. who manage to hang together, at least for now, no matter how tenuous their bonds to each other may be, and regardless of how deceptive they are to each other. Not an ideal relationship, but sometimes that's as good as it can get.
Threesomething (2018) Directed by James Morosini. Written by James Morosini, Sam Sonenshine. Starring James Morosini, Dru Mouser, Michael Hudson, Isabelle Chester, Sam Sonenshine, Tarik Jackson.
7 out of 10 broken hearts