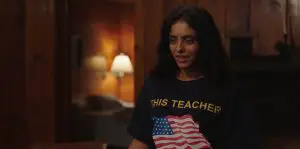 Mark Jackson's third feature This Teacher starts with Hafsia (Hafsia Herzi in a role written specifically for her) arriving in New York City to visit her childhood friend Zahra (Sarah Kazemy). Once Hafsia shows up to Zahra's luxe downtown loft, she discovers that Zahra was not the girl she knew growing up in Paris. She now goes by Sarah and has pretty much completely assimilated into Western culture. The two girls grew up Muslim, and while Hafsia still observes the tenants, Sarah has left most of them behind. We can see Hafsia's confusion towards this when she sees Sarah drunk at a party.
Sarah is practically married to an older white guy named Heath (Gabe Fazio) who is clueless as to how it must be living as a Muslim woman in America. This is illustrated by a speech he gives about a role that Sarah gets a call back for in which she plays a Latin American woman. He states that it's essential that an Arabic woman can portray someone of another race because deep down "we're all the same." Of course, this is well meant, but typical white-guy grandstanding where they have no room to talk. There's also a moment at the party where a white male guest is talking to Hafsia about how he doesn't understand why Muslim women would wear a hijab and asks Hafsia why she doesn't.
"The two girls grew up Muslim, and while Hafsia still observes the tenants, Sarah has left most of them behind."
After a short time staying in Sarah's apartment, Hafsia and Sarah both start to get sick of each other but it's Sarah who vocalizes it to her boyfriend, saying that Hafsia stinks and she doesn't want her to stay there anymore. She doesn't realize that Hafsia overheard her. The next day she says that Hafsia can pick a place to stay for the rest of the time and she will pay for it. Instead of staying in New York City, Hafsia goes upstate, without telling Sarah.
While Hafsia is upstate, she gets scared by the woods at night and accidentally uses all of her firewood. The next day, Hafsia has a spiritual epiphany in the woods, after which Sarah arrives. She and Hafsia walk through the woods and Sarah complains about how Heath doesn't want to go with her to L.A. Hafsia tries to explain her spiritual awakening to Sarah, but she doesn't really care. She says "our relationship is toxic" and wants Hafsia to come with Sarah back to the city, but she stays in the cabin.
"…an exceptionally written, slyly funny yet emotionally harrowing film…"
In the final third of the movie, Hafsia meets a couple who are also staying on the grounds. They seem nice and help her out after an animal broke into her cabin and took all of her food. At this point, the central themes of the film that were all subtle hints in the background of the first two-thirds come to the fore. Themes like the inherent racism and naivety that comes along with being a white American, that most white Americans don't even know they have or the rampant Islamophobia that has overtaken most of the world, and the difficulties of being a Muslim, particularly a Muslim woman, in a post-911 world. There's some pretty disturbing yet effective imagery in the last third that cemented this in my brain as a very important film for 2019.
This Teacher is an exceptionally written, slyly funny yet emotionally harrowing film that is carried by Hafsia Herzi's incredible performance. While conveying a serious message, the film is darkly hilarious and witty. There's a lot of people out there, right now, especially in Trump's America who really need the message of This Teacher shoved into their brains. I hope that some of them see it.
This Teacher (2018) Written and Directed by Mark Jackson. Starring Hafsia Herzi, Sarah Kazemy, Lucy Walters, Kevin Kane, Lev Gorn, Rebekah Del Rio, Gabe Fazio, Lawrence Novak. This Teacher screened at the 2019 Slamdance Film Festival.
9 out of 10 stars