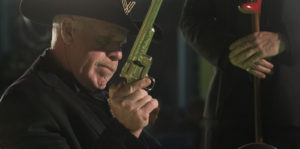 When a very ripped male model who is only wearing skimpy red briefs was being pelted with red high-heeled shoes while in front of a green screen, I had to wonder what I was in store for with This Game's Called Murder. In this comedic crime drama, the bizarreness to follow appeared to be, in the simplest of terms, a family business trying to continue growing its already obscene fortune at the expense or murder of others. But, of course, the central players are doing all this for twisted reasons. A comedy-horror tale shrouded in deep, dark secrets and practices, writer/director Adam Sherman's title is a comment on the 21st century's most glutenous rich, and for genre fans, there's a great deal to consume.
Set in a future world or underworld of sorts, This Game's Called Murder is an over-the-top horror film bursting with licentious décor, set dressing, costume, speech, and acts of violence. However, what it lacks in story, character depth, and purpose is visual screen opulence. It's about wealthy privilege in all its perverse and bizarre existence, based upon the business of manufacturing Wallendorf red high-heeled shoes. At the top of the shoe company is Mr. Wallendorf (Ron Perlman). Perlman is most suited to play the role and appears to be enjoying the zaniness a great deal.
But, of course, his wife, Mrs. Wallendorf (Natasha Henstridge), has her own defined place and life in this bizarre dynasty, as well as taking care of her own dirty deeds. However, their daughter, Jennifer (Vanessa Marano), is forward-thinking but entirely and utterly disheveled, privileged, confused, and aspires to retain her stays as an Instagram princess. She is bringing Wallendorf into the future with a take it or leave it attitude, yet conscious of her every move and fashion choice, even if wasted from champagne and whiskey.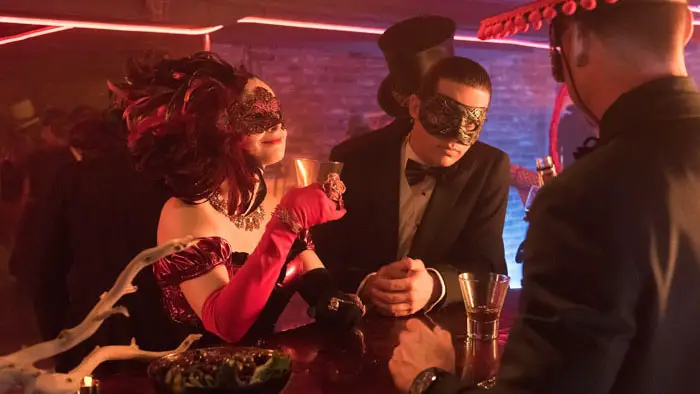 "…a family business trying to continue growing its already obscene fortune at the expense or murder of others."
Unable to connect with his daughter, Mr. Wallendorf can't seem to kick his conniving and murderous ways, nor can his wife, who is a bit estranged, go figure. Yet, Jennifer and her new crush have their demented ways of fun and exploration, which are on track with being a Wallendorf. Loaded with tons of red high-heeled shoes, attacks by a gang of sexy female thugs who live underground, and many other bizarre characters, everyone appears to be wrapped up in jealousy and evil actions.
This Game's Called Murder moves forward despite the oddness. The human factor of Jennifer's quest to be in love, make connections, and take over the world is apparent, as all the characters' directions and somehow Sherman connected it all. The actors are all dedicated and motivated to portray these unlikeable characters as over-the-top as possible. It is as odd as it is engaging, even if the plot is jumbled and not the easiest to follow.
With violence, a trait among everyone, and The Wallendorf's ability to manage power and presence, of course, the feature can only end one way. This Game's Called Murder has a fantastical visual appeal above a regular ultra-violent horror film. The characters are unusual, but somehow, its disjointed story does figure into a type of game even if it's hard to follow.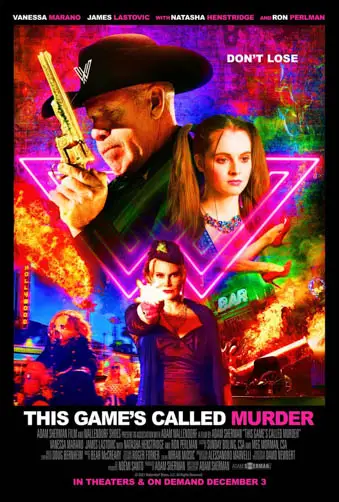 "…as odd as it is engaging..."