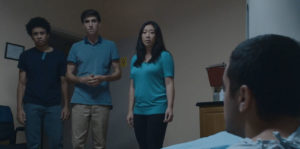 A student's experiment into neuropsychology and memories goes horribly wrong in writer-director Tim Morrill's sci-fi thriller, Look into the Fire. Adam (Artie Shase) is a graduate student partnered with Samantha (Jackie Dallas), Seth (Myles Brown), and Jerry (David Silva). They struggle to get their group thesis off the ground as their experiment has found a way of accessing and introducing memories into a patient's brain. The problem is they are running out of time to complete their project, and their test subjects are no-shows.
Against the team's better judgment, Adam volunteers to be the subject of their experiment. The procedure is simple: Adam will enter the machine, and the team will transfer an image of a cabin in the woods into his mind. But something goes wrong, causing Adam to lose the majority of his short-term memory.
After passing out at home, Samantha takes Adam to the ER and contacts his estranged stepsister Janet (Nina E. Jordan). Janet takes him to the family cabin in the woods to recuperate. Concerned that his repressed family memories might surface, Janet keeps her stepbrother drugged and sedated. As Adam's memories return, he reaches out to his friends to rescue him.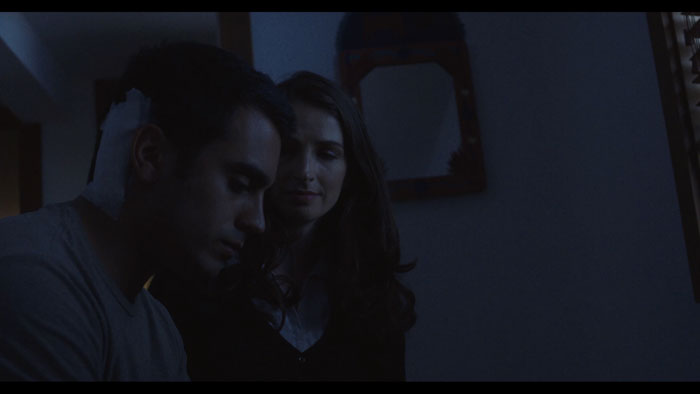 "As Adam's memories return, he reaches out to his friends to rescue him."
Throughout Look into the Fire, Adam falls into the typical tale of being the unknowing hero with a deep dark secret and an uncontrolled experiment that unleashes the "demons" of his past. The basic structure involves slowly revealing bits and pieces of Adam's past as he attempts to escape the prison Janet sets up for him. Now, he has to piece together the clues of that past with his friends.
As it stands, the movie makes the most of its indie psychological thriller status. The budget was not high by Hollywood standards, and some aspects would have been significantly better with about ten million added to the production's coffers. So, how did the filmmaker overcome these budgetary shortcomings? First, Morrill casts strong actors in Artie Shase, Jackie Dallas, and Nina E. Jordan. The three pretty much carry the flick with engaging performances from start to finish.
Secondly, the story of Look into the Fire is solid as a thriller. Morrill effectively used what resources he had available to get his plot across. Most of my issues fall in spoiler territory. Let's say a story of this nature needs to address the main character's point of view if they are used as an unreliable narrator. My one big wish is for the suspense and thrills to be pushed up a few notches. There are dozens of tricks guerilla filmmakers use to make this happen, involving sound, lighting, camera movement, and editing. Hitchcock was a master of this. You always want to be looking for ways to push cinematic boundaries.
Tim Morrill's Look into the Fire is an exciting and engaging psychological thriller with a cast of emerging actors who elevate the material and the budget.
For more information, visit the Look into the Fire Facebook page.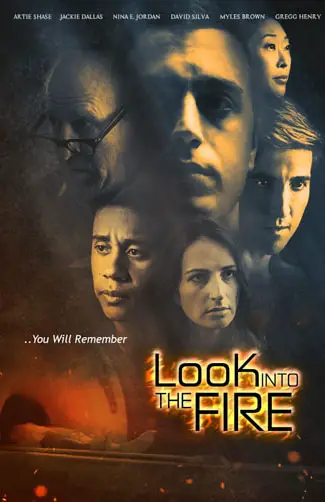 "…an exciting and engaging psychological thriller..."