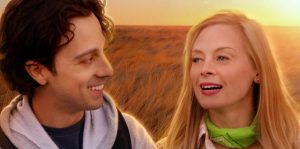 Filmmaker Renji Philip has clearly seen his share of Terrence Malick films. In his romantic drama The Wake of Light, the camera "becomes" the wind, swooping through twilight fields, as fingertips brush through amber grass, and the insistent piano score swells to the point of bursting. Luckily, the subtlety of the lead performances – along with the surprising thoughtfulness that the faith-based film accumulates throughout its slim 75 minutes – somehow renders the overwrought flourishes not only tolerable but intermittently poetic.
Mary (Rome Brooks) has a lot on her plate. She takes care of her aging father, Stanley (William Morton) – who hasn't uttered a word since his stroke – and looks after his dilapidated farm. This leaves poor Mary little time for a personal life… until the dashing, road-trippin' Cole (Matt Bush) rides into town. After an initial, awkward meet-cute, the sparks between our two heroes start to fly at the nearby water well.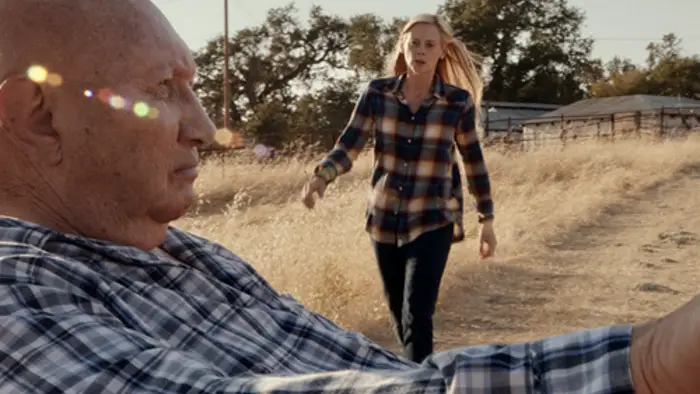 "…Mary is faced with a choice…stay with dad, or speed off into the sunset with Cole…"
He fixes her birdhouse and joins Mary and her father for dinner. He even inspires ol' Stanley to venture outside – while carrying a giant rabbit (don't ask). Our young heroes frolic through meadows. Ultimately, Mary is faced with a choice, presented to her somewhat callously by Cole: stay with dad, or speed off into the sunset with Cole, the wind, and the piano score. "Tell me what you want from me," Mary asks God in a church. Philip wisely side-steps a typical ending in a frequently conventionally-told story.
A relative newcomer to the scene, Brooks worked with Philip before on Cheesecake Casserole. Here, she shines in an understated performance. Her Mary may be sheltered and forever wonder what the ocean might look and smell like, but she stoically chooses family over personal freedom. Bush comes on a little too forcefully at first – he could have dialed back on the incessant gibberish – but ultimately wins us over. William Morton oddly reminded me of Lawrence Tierney in his early-1990's heyday.
If you can overlook the multiple intrusive music cues, the dozens of fade-outs, and the maudlin sentiments, there's an honest lyricism in The Wake of Light, absent in most of its big-budget cousins. It's a low-key, sparse study of the life-changing choices we make. He may not be Malick, but at least Philip knows to steal from the best.
"…intermittently poetic."