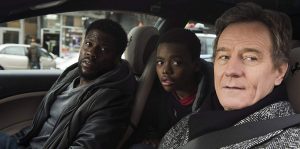 In 2011 the comedic drama The Intouchables was released to great acclaim. After nine weeks in theaters, it became the second highest grossing film of all time in its home country of France. It was up for or won a slew of awards and is based on the real-life friendship between Phillipe Pozzo di Borgo and Abdel Sellou. Inevitably, if a foreign movie is a big enough hit, Hollywood comes knocking for the rights to remake the motion picture. Although in this particular case, the big Hollywood treatment is actually the third remake of  The Intouchables (kind of, sort of the fourth to be honest).
All of which leads us to the Neil Burger-directed The Upside. This Kevin Hart and Bryan Cranston starring remake hues closely to the original template of the French film, to this new film's detriment. Kevin Hart is the recently released ex-convict Dell Scott, whose apathetic attitude is getting him on the wrong side of his parole officer. This forces Dell to more seriously look for gainful employment. While searching for where to interview for a custodian job in a palatial suites building, he accidentally goes to the wrong floor.
Thus Dell finds himself being interviewed by Phillip Lacasse (Bryan Cranston) and his assistant Yvonne (Nicole Kidman) to be a 'life auxiliary' for the widowed financial guru. Lacasse was recently in a parasailing accident that has left him a person with quadriplegia. Phillip offhandedly asks Dell what he was in prison for, forgetting (or not realizing) that he can't ask such a thing. So Phillip and Yvonne are forced to offer Dell the position, which he reluctantly accepts.
Dell in the meantime is trying to re-enter his son's life. However, his ex Latrice (Aja Naomi King) and son Anthony (Jahi Di'Allo Winston) still see him as the deadbeat that got arrested and want nothing to do with him. Can these two men, with very little in common, find a way to make a connection and help each other?
"…Dell finds himself being interviewed…to be a 'life auxiliary' for the widowed financial guru."
I saw The Intouchables in theaters upon its initial release and found it be charming and sweet but have never rewatched it since. The Upside, despite telling the same story, is far less of an entertaining affair. Instead, Jon Hartmere's first feature-length script is a tonally awkward mess, with dialogue, and thin characterizations. The day Dell is officially hired, he is shown how to remove and empty Phillip's catheter by Maggie (Golshifteh Farahani), the physical therapist. His reaction is the typical one of overacting disgust, and it is not funny. Not only because it has been done better in several other movies but also because it is edited awkwardly. The way the camera cuts between where Maggie, Phillip, and Dell are in relation to each other is odd, creating a jarring sense of space in just one single room. Then the scene is replayed the next day when Maggie is late and Dell has to change the catheter to the same effect. The Upside is so devoid of originality that is recycling its own already outdated comedic setups.