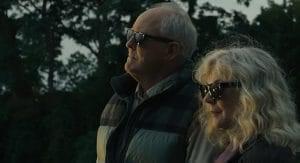 The joy of The Tomorrow Man is watching two seasoned actors, acting like giddy teens in older bodies. Their love is sweet and endearing. And both have complicated families to deal with. There's a fantastic scene where Ed is invited to Thanksgiving dinner by Brian for the first time in a long time. The reason is they almost always get into heated arguments about the end of the world that breaks down into a lot of yelling and…you know, parents and kids. For once, Ed is interested in going and asks if he can bring his girlfriend Ronnie, and she witnesses in short order the meltdown of his family.
"…a film starring John Lithgow and Blythe Danner. Honestly, I should just end the review there…"
Noble Jones' script is not only about love but about the people we become when we get older. We grow old alone, we become set in our ways. We put up defenses and become virtually impossible to tear down when we allow ourselves to love someone else late in the game.
The Tomorrow Man is not one of these high-dramas with something profound to say about human natures. It's more a chance to watch two veteran actors in John Lithgow and Blythe Danner do what they spent their entire lives doing, and that's act and act real damn good. They find that right balance between being normal and quirky to turn out a grounded performance. And the film's final moment comes a little out of nowhere but is the perfect button to a sweet story.
The Tomorrow Man (2019) Written and directed by Noble Jones. Starring John Lithgow, Blythe Danner, Derek Cecil, Sophie Thacher.
8 out of 10 stars