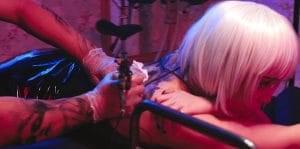 The Tattooist follows the dark obsessions of a tattooist whose studio is acclaimed for its exceptional and intricately crafted tattoos. Those who receive his prized masterpiece are drugged, imprisoned, and then forced to fight their fears in a race against the clock to escape. Can they escape or will they become victims of the tattooist?
Above is the official synopsis for this short film and when I say short film, I mean short film. The Tattooist is a whopping one minute and nineteen seconds in length, and that's including the credits. Once I read the synopsis, I was curious about how the director would pull the story off in such a short amount of time.
"Those who receive his prized masterpiece are drugged, imprisoned, and then forced to fight their fears…"
Why I chose to review the short was because of the title itself. I'm a huge fan of tattoos, the art, and the technique that the talent requires. That being said, there's not much tattooing going on but what it does have a lot of blood and torture. The short opens up with the tattooist (Wang Yanhu) working on a beautiful back piece that he's tattooing on a woman. The remainder of the short goes in and out of brutal killings taking place, all done by the tattooist, of course. The killings are very violent and very gory.
I watched the short twice, and during the second go-round, I noticed some details that I didn't see while watching it the first time which helped me understand the short better. That's not necessarily a good thing, but it's easy to miss some details. What stuck out to me most was the colors in the film. The neon lights used were vibrant and gave off some great looking shots during the tattooing scene. The film can get quite dark color-tone wise. And speaking of tones, the film's score lightens up the feel, so even someone that isn't all that much into horror (such as myself. Yes, I know, I'm terrible…) can enjoy it for what it is. Director Michael Wong managed to get a story told in such a short amount of time which is an impressive feat.
The Tattooist (2018) Directed and written by Michael Wong. Starring Wang Yanhu, Lu Li, Myra Mala, Chase Lichtenberg, Simon Shiyamba, Mayela Magrou, Dan Litza.
7 out of 10