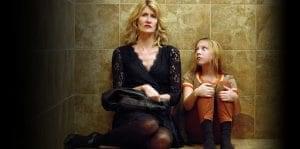 Haunting and uncompromising, Jennifer Fox's The Tale runs the gamut of uncomfortable and devastating to necessary and cathartic. Her steadfast writing and directing, assisted by a note-perfect performance by Laura Dern make the harrowing experience of watching this film mightily worth it.
This is Fox's first outing as a feature filmmaker (she has established herself as a documentarian) and she tells her deeply personal story, serving as both a reckoning and a healing for the filmmaker. Dern stars as Fox, who spent the majority of her life convincing herself that she had a special and passionate relationship with a much older man when she was 13 years old. The film cuts seamlessly back-and-forth between Fox trying to make sense of her past as an adult and Fox as a young girl (Isabelle Nelisse) and the evolution of her inappropriate relationship.
"…cuts seamlessly…between Fox trying to make sense of her past as an adult and Fox as a young girl…"
Most of these memories have been seemingly repressed by Fox as an adult until she receives frantic calls from her mother (Ellen Burstyn), who found a story she had written as a young girl. As any concerned parent would, Fox's mother wants answers. This sends Fox on a journey she wasn't sure she would ever end up going on.
As a young girl, Fox spent a great deal of time at a horseback riding camp, led by Mrs. G (Elizabeth Debicki), who is in an extramarital relationship with a running instructor, Bill (Jason Ritter), who helps train the girls as part of their riding practice. Mrs. G and Bill take a particular liking to Fox, spending extra time with her and coordinating special outings with just the three of them. The time spent together translates into Bill and Fox having a relationship, which makes the young girl feel special.
The arc the protagonist goes through during The Tale is what makes it powerful and watchable, despiste how deeply unsettling it all is. Even so, the material is not done exploitatively. Fox shares her truth with care even when what's depicted on screen is hard to watch. She lived it. She endured it. We are simply a witness to her story.
"…shares her truth…even when what's depicted is hard to watch."
Dern, coming off a huge success with HBO's Big Little Lies, does some of her best work here. She mines the frustration, anger, resentment, and everything that comes in between when trying to make sense of her own life. She is discovering everything about herself at the same time we are and Dern is captivating in every scene of this personal investigation.
We are at a time, especially in Hollywood, where The Tale is going to resonate deeply with those who watch it. This discomfort of the story will not outweigh the power it will have on those who can identify with Dern's character.
The Tale (2018) Directed by Jennifer Fox. Written by Jennifer Fox. Starring Laura Dern, Ellen Burstyn, Jason Ritter, Elizabeth Debicki. The Tale premiered at the 2018 Sundance Film Festival.
Grade: B+