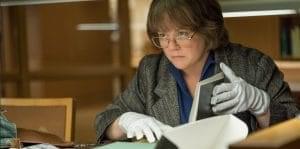 When no one wants to read your biographies of groundbreaking women in history, what do you do? Your agent no longer answers your calls, do you give up hope? In Marielle Heller's profoundly empathetic biopic/adaption, Can You Ever Forgive Me? Lee Israel does anything but.
Based on the memoir of the same name, Can You Ever Forgive Me? follows biographer Lee Israel (Melissa McCarthy) in the 1990s, who previously cut her teeth writing about giants of Herstory like Katharine Hepburn, Estee Lauder, and others. However, the film opens with her not only down on her luck but literally down to her last dollar. Outshined by the burgeoning celebrity of Tom Clancy and the like, Israel finds herself a woman out of time and place. It doesn't help that her agent (Jane Curtin) admits, simply, that no one likes Israel, let alone her work.
It's only during a chance encounter with an old party chum, Jack Hock (Richard E. Grant), that Israel has a turn of luck. Despite doing her damnedest to turn him away, she finds a friend in the effervescent Hock, who is as mysterious as he is destitute. 
In the subsequent days, her luck continues to change as she finds an original letters from her newest biography's subject. Her attempts to sell it are met with pennies. It's after she embellishes one of the letters with a few quippy post-scripts that she decides to plagurize these intimate letters and pass them off as her own. 
The film then spins out as the caper enlarges—she even enlists Hock's help in running a criminal enterprise that pays her bills, get medication for her sick cat, and affords her some spending money. Of course, the Feds eventually catch up, spurring a striking and emotional third act that is too good to spoil.
"…her agent admits, simply, that no one likes her, let alone her work."
Overarching story and technical achievements notwithstanding, the pure merit of Can You Ever Forgive Me? lies in its performances. Melissa McCarthy does some of the best dramatic work of her feature-film career as the gruff, surly, talented but emotionally broken Lee Israel. Watching her embody Israel's constant vacillation between needing love and wanting to be left alone in a world that devalues (older) women is both heartwarming and full of pathos. This is doubled when, in the film's most quiet moments—of which there are many—she's in concert with Grant's Jack Hock. An odd couple if there ever was one, the two have a dynamic that explores the tenets of boundaries, trust, and love in ways that are as forgiving and empathetic as they are honest.
As the film moves through its acts, the centerpiece of its drama is genuinely their relationship; as older people in a young person's world, and specifically, as old queer people. While never explicitly stated in any grandstanding, over-the-top way, Hock and Israel are both very gay. As such, in a film set in the '90s, they contend with varying pressures and dangers around their identities. The core plot may be the forging of letters, but Can You Ever Forgive Me?'s deepest moments are honestly centered on Israel's grappling with the idea to yielding even a modicum of love to herself, romantic and platonic partners.
Two scenes, in particular, illustrate the depth of this dynamic. The first concerns Israel's second big caper: stealing real letters to throw the FBI off her trail. In her absence, Jack housesits. But due to his mercurial nature, he finds himself coked up and screwing a young Latinx man (13 Reason Why's Christian Navarro) from a nearby diner. In this bender, Jack accidentally overdoses Israel's cat with medication, promptly killing it. Israel returns to find her cat stiff as a board and is completely heartbroken. As she cradles her feline pal, we get a medium close up—Israel in the foreground and Jack in the background. She never turns to face him, her anguish facing us completely, as she banishes him from her home. While it's predictable in the "old cat lady" trope tradition, the truth of Israel's pain–that this cat was the only thing she thought she truly loved–is not lost on us. McCarthy's performance makes sure of it.
"…the centerpiece is their relationship; as older people in a young person's world, and specifically, as old queer people."
The second moment comes about at the end of the film. Israel's been caught, and even while on probation, she breaks the rules. In a not-so-clandestine meeting with Jack, she finally admits–in her own way–her love for him. And he, the same. It balances Israel's dark humor with Jack's most biting and honest understandings, an interplay between actors that's as heavy as it is worthwhile. It's also a payoff of two other relationships in the film, one budding and one dead, that heavily illustrated Israel's inability to actually connect with someone; emotionally, creatively, or financially. I won't spoil these prior two, but I will say that they are some of Can You Ever Forgive Me?'s best scenes in that they have some of the most intimate dialogue in the entire film. That said, this final scene then is proof that, while you came for the film's caper, you'll stay for the players.
In a way, it's amazing that Marielle Heller was able to pack so much into this film. While it does run long, it doesn't feel as though it overstays its welcome. In each movement and vignette, we get closer to Israel, as we do to Jack. So much so that, by the third act, it's painful to see them at such odds. At every turn, Marielle Heller provides nuanced, intimate framing and dialogue that is most interested in the little dramas that define who we are while never losing sight of its overarching narrative. Because of this, I'd argue that—if it weren't for the film's central hook—Can You Ever Forgive Me? is truly a tribute to the complexity, depth and bittersweet hues of humanity, as understood from the position of two older, queer people. Dare I say then, without being too melodramatic, it's a drama that stole my heart and will probably steal yours. Clearly, I already have.
Can You Ever Forgive Me? (2018) Directed by Marielle Heller. Written by Nicole Holofcener, Jeff Whitty. Starring Melissa McCarthy, Richard E. Grant, Dolly Wells, Christian Navarro, and Jane Curtin.
10 out of 10 Forged notes