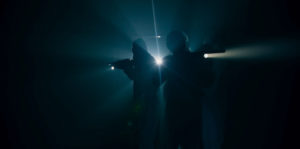 According to an urban legend, in 1947, in Soviet Russia, an experiment was conducted in which five prisoners were promised freedom if they could stay awake for 30 consecutive days in a chamber. This would be administered using a gas stimulant. The prisoners were chosen based on their being considered an enemy of the state. However, the experiment was a failure, resulting in multiple deaths. That is the basis for writer-director John Farrelly's horror/thriller debut, The Sleep Experiment.
In 1961, prisoners Edward (Rob James Capel), Sean (Brian Moore), Luke (Will Murphy), Eric (Steven Jess), and Patrick (Sam McGovern) volunteered to stay up for a month straight. The experiment is being conducted by scientist Christopher Sampson (Tom Kerrisk), who works for Porton Down, a science park in England. Edward is a hulking presence charged with murder after attempting to avenge his daughter's death. Thief Sean wants to see his aunt again after losing his mother. Luke killed children. Eric is unassuming and looks innocent, though he's serving a sentence for murder. Patrick is the most mysterious of them all but is also the most stable.
Meanwhile, in 1976, two cops, David (Anthony Murphy) and Robert (Barry John Kinsella), are investigating Christopher and the experiment. The investigation is intercut with the prisoners in the gas chamber, showing the events that occur while counting down the days. The story is presented in five chapters, showing each prisoner's slowly decaying mental state. The results are bloody, violent, and revealing in their conclusion.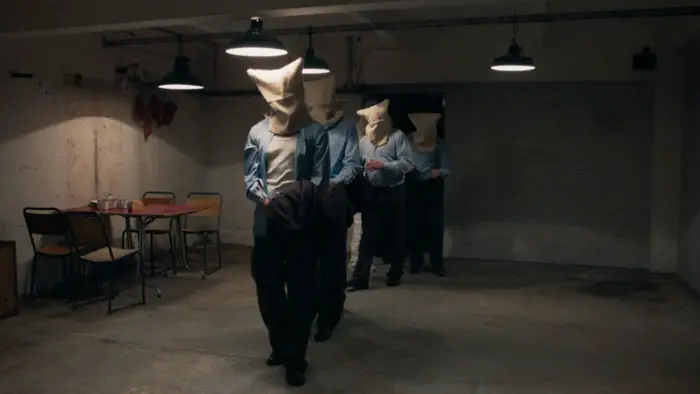 "…five prisoners were promised freedom if they could stay awake for 30 consecutive days…"
Farrelly, at just the ripe age of twenty-two, shot The Sleep Experiment for 25 days stretched over four years. As a debut, it is impressive on a technical level. The opening scenes feature nicely crafted shots as photographed by Alice Hollingsworth. One of the highlights includes when the prisoners first arrive in the chamber, hooded, and the experiment's rules are explained. During this speech, the camera moves 360 degrees around the room, showing how little there is. It's also foreshadowing what is coming. Unfortunately, this kind of promise disappears shortly after the first half hour. 
The premise on its own is excellent and is genuinely interesting at its start. That said, the film has a bad habit of over-explaining. There is so much dialogue between Edward, Sean, Luke, Eric, and Patrick as they recount the reasons for their arrest. While there are flashes of imagery showing the prisoners at the scene of their crimes, it is not enough. Worse still, the overpowering music makes it hard to discern what anyone says.
The conclusion, while genuinely creepy, featured a lot of expository dialogue, which is not only hard to understand but also underwhelming. The investigation scenes also come off as problematic. For example, one of the cops, as it turns out, has a personal connection to one of the prisoners. However, this is never mentioned again for the remainder of the runtime nor revealed which prisoner it is. Understanding this character and connection would have created more investment.
For everything there is to like in The Sleep Experiment, there is something not to like. Some of the twists and turns are well executed, while others are not. Farrelly has a clear vision as a filmmaker and directs his cast well. He and Hollingsworth also make the visuals quite nice. However, the film falters in its writing and storytelling, leaving little surprise as it concludes. Still, Farrelly is a filmmaker to watch as he develops his cinematic voice.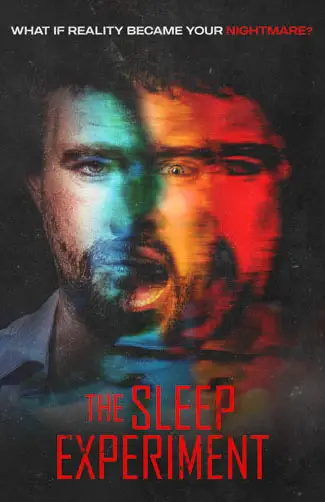 "…twists and turns are well executed..."