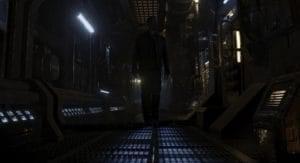 An ex-slave trader struggles to live a better life and provide for his daughter as a cargo hauler. With nearly no money or food, he will have to make difficult choices to get out of the mess he is in.
I am not the biggest fan of sci-fi. Although my favorite trilogy of all-time is the original Star Wars trilogy (go figure), and I am in no way going to compare The Shipment to those films. It would be unfair To do of course, but there is no denying that there is a lot of Star Wars influence as well as many other sci-fi classics driving this short film.
The film centers on Kaidan (Aleks Paunovic) and his daughter Zohra (Ishana Bala), who are flying around the galaxy as broke cargo haulers (or cargo rats as Kaidan calls it). Apparently in this galaxy cargo hauling is just above being a slave. When Kaidan has to land his ship between drop-offs, unfortunately, at a port where he was almost blackmailed earlier by the authority. Etienne (Omari Newton) is that authority which tries to make a deal with Kaidan that he either sells his ship to him for close to nothing or he leaves it there until he can pay the daily parking fee. Backed into a corner, Kaidan hesitantly decides to do a sketchy job with one of Etienne's men.
"…centers on Kaidan and his daughter Zohra, who are flying around the galaxy as broke cargo haulers (or cargo rats as Kaidan calls it)."
The Shipment has a little something for everyone. There is a father-daughter love story serving as the emotion of the film. There's also action and lots of beautiful visuals. Lately, it seems that short films have really upped their game when it comes to computer graphics. This is another film that proves that. The visuals were the highlight of the film from its shots of ships flying through the galaxy to its great special effects makeup. Most creatures in the film are done with practical effects which is always a great thing to see because unfortunately, it's a dying art thanks to all of the studios' overuse of CG. The makeup in this film is on par with something you would see on the Syfy channel. Now, with all of its positives regarding the effects, there are also some negatives that come with it. When the characters are in front of a green screen, you can really tell that they are in front of a green screen. But once again, the visuals of the ships flying around definitely make up for all of that.
The Shipment (2019) Directed and written by Bobby Bala. Starring Aleks Paunovic, Ishana Bala, Robert Maillet, Omari Newton, Adrian Petriw. The Shipment screened at the 2019 Tribeca Film Festival.
7 out of 10