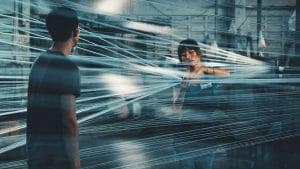 The acerbic art-house drama The Road to Mandalay, a Taiwan-Myanmar-France-Germany coproduction, depicts a story centered on the adversities of illegal immigration and comes embittered by an immoderate, destructive relationship.
Burmese filmmaker Midi Z directs from a tight script of his own authorship, returning to the fictional film after releasing two documentaries in the last couple of years about jade diggers in Myanmar, Jade Miners and City of Jade.
The long opening shot shows us a woman and a man crossing a riverside on a floatable rubber ring. She is Lianqing (Wu Ke-xi), 23, a Burmese from the waterless region of Lashio, and he is an escort paid to take her to Thailand, whose border is delimited by the other margin. From there, she proceeds to a van that will finally take her to Bangkok, where a friend should be waiting for her.
"When the tale seemed to get closer to a happy ending, a brutal final blow is applied…"
Unexpectedly, an unselfish young man from her hometown, Guo (Kai Ko), makes his expensive front seat available to her and jumps into the trunk. Once in Bangkok, he tries to persuade her to work with him in his cousin's textile factory, an opportunity that eventually occurs after Lianqing realize that times have changed and no respectable company, small or big, will hire her without a work permit.
Before starting to work in there, obviously off the books, she was washing dishes in a small restaurant but ended up arrested during an overnight police raid. It was Guo who bailed her out, yet Lianqing, unresponsive to his romantic advances, refuses to follow his ideas. Besides their clashing personalities, they want totally different things from life. While she's willing to risk everything to get the papers that would allow her to work in the city and consequently apply for a Thai passport, he intends to return to Burma to open a small store to sell clothes imported from China. It's curious how this conflicting situation sometimes weighs more than the immigration problem itself.
"… a slow, steady pace to set the highly articulate storytelling in motion."
Avoiding overdramatic strategies or major fusses, Midi Z resorts to a slow, steady pace to set the highly articulate storytelling in motion. It is bolstered by the inherent sadness of the score, magisterially composed by Lim Giong (a recurrent choice by Jia Zhangke and Hou-Hsiao Hsien), and the dispiriting visuals captured by the debutant cinematographer Tom Fan.
Bitterness and disappointment escalate as the desperate Lianqing considers a new tactic – remarkably insinuated through an intelligent surreal scene – in order to solve her problem.
When the tale seemed to get closer to a happy ending, a brutal final blow is applied, suspending our breath for a few seconds. The deliberate visual abruptness devised by another Zhangke's regular, the editor Matthieu Laclau, only emphasizes the raw tones adopted throughout.
Both Wu Ke-xi and Kai Ko were phenomenal in their performances and Midi Z has probably in Mandalay his best work so far.
The Road to Mandalay (2017) Written and Directed by Midi Z. Starring: Wu Ke-xi, Kai Ko.
7 out of 10