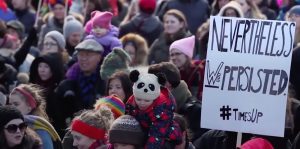 So unless you've been under a rock for the past year, you are probably aware of the multitude of sexual misconduct allegations against former Miramax and Weinstein Company movie mogul Harvey Weinstein. I'm going to go on record right now and say that I was in absolutely no way surprised when I heard this news. If you even have a peripheral involvement in the entertainment industry, stories about how horrendous he is have been circulating for years. I first read about the horror of Harvey Weinstein in a book entitled Down and Dirty Pictures: Miramax, Sundance, and the Rise of Independent Film by Peter Biskind. While it does not go into detail about his sexual mores, it frames him as an absolute tyrant, terrorizing his employees, the filmmakers who worked with him, his assistants, etc.. So it was not too big of a reach to assume that this behavior would extend to all areas of his life.
Director Barry Avrich touches on Weinstein's propensity for tyranny in his scathing documentary The Reckoning: Hollywood's Worst Kept Secret. Additionally, we get to hear devastating first-hand accounts of Harvey's harassment and abuse towards women in the entertainment industry. The thing that is wonderful about Avrick's treatment of the subject is that he also holds the people who were complicit in his activities accountable. Actress and Weinstein accuser Melissa Sagemiller said that as a female assistant was always on the fringes. At one point Weinstein called Sagemiller on an airport phone to tell her not to get on the flight, because they had transferred them to the plane with Harvey, which Melissa had refused to do earlier.
"Harassers do not operate in isolation. There's hardly ever a situation where people surrounding that individual are not aware of what's going on," says Jeanne Christensen, sexual harassment lawyer, and in the case of Weinstein, this is 100% correct. Many people in his inner circle knew what was happening. In the case of many of his assistants, and even victims, NDA's were signed to prevent any information from going public.
"…devastating first-hand accounts of Harvey's harassment and abuse towards women in the entertainment industry."
In regards to different people and organizations being complicit in Harvey's behavior, they are taken to task in this film. From CAA, a top talent agency, to everyone who profited from Harvey silently, including actors, actresses, and directors such as Meryl Streep and many others.
Referring to CAA, Belle Zwerdling, talent agent said: "I know it's a big boy's club, and it's still a big boy's club, but you're talking about pimping, downright pimping." What she is referring to is CAA continuing to send actresses Harvey's way when it was "Hollywood's Worst Kept Secret" that he was a sexual predator.
With a large lens set on Weinstein in The Reckoning, he certainly isn't the only harasser/abuser/sexual predator discussed in this film. Avrich goes deep into the history of "the casting couch" which has existed since the outset of the film industry. In an old interview with Kenneth Anger, who wrote a delicious tell-all about all the dirty secrets during the golden age of cinema, Hollywood Babylon, has this to say about former head of 20th Century Fox, Darryl Zanuck and Mack Sennett, former head of the now-defunct Keystone studios. Anger says, "The original casting couch was a piece of furniture in the office of Mack Sennett, and it's where he *ahem* interviewed the various Mack Sennett bathing beauties….the other most famous casting couch was actually a separate bedroom behind the office of Darryl Zanuck at Fox and he wasn't to be disturbed any afternoon Monday through Friday from 4-5."
If that isn't disturbing enough, Tippi Hedren who starred in The Birds and had a tumultuous working relationship with "cinematic god" Alfred Hitchcock. She says "…he had me followed, did things like have my handwriting analyzed. He just wanted to control my life. He said 'I'll ruin your career', and he did."
"…CAA continuing to send actresses Harvey's way when it was 'Hollywood's Worst Kept Secret' that he was a sexual predator."
The Reckoning returns to present day and talks with several victims about their experiences with Woody Allen, James Toback, Bill O'Reilly, and Louis CK.
"If you speak out against Woody Allen and all the clout, power, prestige, that is the battleship you come up against," says Dylan Farrow, Woody Allen's daughter/accuser.
The documentary is incredibly sad. The audience hears seemingly countless horror stories of abuse and harassment, and even if some of these predators get taken to task, in the case of Weinstein (criminally) and Louis CK (financially), there are still plenty of people out there who still get away with this behavior and won't own up to the accusations against them. In a particularly outrageous statement via telephone, James Toback shows no remorse and outright denies everything in a very inappropriate fashion. He exclaims, "The idea that I would offer a part to anyone for any other reason than that he or she was gonna be the best of anyone I could find is so disgusting to me and anyone who says it is a lying c********r or c-nt or both. Can I be any clearer than that?"
I could go on about how relevant this documentary is to the #metoo movement, and how shocking some of the stories and emotional reactions people have had. Particularly true amongst victims like comedian Rebecca Corry, who still feels horrible from the incident of sexual misconduct between her and Louis CK, or Terri Conn who still remembers when James Toback "humped her leg" on a rock in Central Park. Instead, I urge you to see the film. It goes into harrowing detail of how intrinsic male power has been to the entertainment industry and the world since…forever and how we are only just starting to change that dynamic and make the world a better place for women. Please see this film, if only to hear victims speak truth to power.  
The Reckoning: Hollywood's Worst Kept Secret (2018) Directed by Barry Avrich. Written by Barry Avrich, Melissa Hood, and Michele Hozer. Starring Emma Thompson, Joan Collins, Jenn Deleo, Dylan O'Sullivan Farrow, Rebecca Corry, Jeanne M. Christensen, Terri Conn, Dominique Huett, Melissa Sagemiller, Lauren Sivan, Belle Zwerdling.
10 out of 10 stars