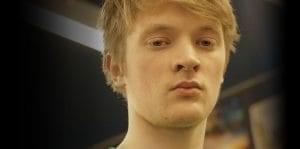 In preparing my thoughts on The Rainbow Experiment, I couldn't help but think about that Muppets Movie song "Rainbow Connection". It's a somewhat tenuous contrast I'll admit, but there does seem to be something deeper at play. The song covers idealistic and dreamy territory, contemplating many an idea on existence and everything within. Interestingly enough, so does Rainbow Experiment, if only with a more heightened task at achieving something true. The song is more successful, but the movie's go at it is admirable.
"…tells the immediate aftermath of a high school science experiment gone wrong."
Directed with a powerful command of actors and camera work by Christina Kallas, Rainbow Experiment tells the immediate aftermath of a high school science experiment gone wrong. The class is supposed to be paying attention to a "rainbow experiment", where a stick, dipped in a solution and set on fire, will produce different colors – but instead, they are all acting out and being disruptive. One student, Matty, is brought up to assist, only to cause a fireball that leaves him in a coma. The next day, we get everything from administrative investigations to personal turmoil to drug sales and unrequited love. All with a ghostly Matty narrating.
Rainbow Experiment could best be treated as a twist on the Crash formula by way of Sliding Doors and Timecode – It's a diverse day-in-the-life tale featuring various arcs and storylines working in harmony to something larger. That something larger, I can only assume, is a philosophy on time, multiverse theory, dreams, and perspective. I assume because the film doesn't so much resolve as it implodes like a cosmic event, leaving us perplexed and curious where enlightenment and profundity were what it was seeking. It's an annoying thing, to end in such a way that would suggest pretentiousness – a big no-no for equally pretentious critics – but I prefer to think of this conclusion as an appropriate if sideways black hole. Nothing is safe from it, not even my thoughts. Not even this review.
"…Kallas is someone to watch. She ought to be on everyone's radar."
The number of storylines conveyed and then ultimately converge is quite impressive to witness, with a weight that would crush any unprepared filmmaker. Director Christina Kallas is completely capable of guiding with a strong editorial hand, the improv-heavy cast to its emotionally resonant and truly tense moments. Editing and transitions are also something to behold, splitting the screen and testing our collective attention spans to complicate perspective importance and even time itself. No matter what score I end up giving Rainbow Experiment, Kallas is someone to watch. She ought to be on everyone's radar.
Don't let the many characters fool or overwhelm you, as Rainbow Experiment isn't some sort of exam for the audience. There are many details hidden and expressed directly in each shot that gives the story obsessive something to salivate over along with enriching characters and setting alike. The film's events are easy to follow enough, but the grand ideas layered beneath this world are just too out of reach for us and them. Credit must be given to Kallas and team for trying to catch what lies beyond, but maybe getting excited about such an action causes one to get lost in one's head? Or maybe they just didn't have the words to articulate such beauty. Where's Kermit?
The Rainbow Experiment (2018): Written & Directed by Christina Kallas / Starring Christian Coulson, Chris Beetem, Kevin Kane. The Rainbow Experiment is playing as part of the Beyond Feature competition at the 2018 Slamdance Film Festival.
RATING: 3 / 5