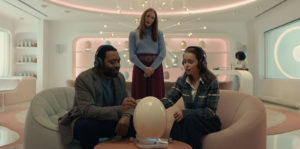 SUNDANCE FILM FESTIVAL 2023 REVIEW! Sophie Barthes' science-fiction feature, The Pod Generation, takes place in a not-too-distant utopian future. Then the writer-director screws around with the very idea of life and where it comes from. Emilia Clarke plays Rachel, a rising executive for the large A.I. tech firm Pegazus. Rachel feels the maternal urge to start a family, but pregnancy would stall her corporate growth in the company. Fortunately, one of Pegazus' subsidiaries is The Womb Center which presents an interesting opportunity. Rachel and her husband, Alvy (Chiwetel Ejiofor), could produce an embryo at the lab and have it grow in a plastic birthing pod provided by The Womb Center.
The lab would monitor every vital and health stat of the baby, provide the perfect nutrition cartridges, and Pegazus will help Rachel with the down payment. But Rachel needs to convince Alvy, a botanist, who has concerns about the world around him going completely synthetic. Meals are produced on 3D printers. Therapists are replaced with A.I. avatars. Of course, the natural birthing process has been replaced by The Womb Center in the most unobtrusive and sterile environment imaginable. As the film states, "The uterus is a political issue. We are finally not victims of our biology."
Alvy's job at the university is in danger as there is no longer any need for further research dollars going to nature thanks to nature pods. So during an unsanctioned field trip, Alvy takes his student to the greenhouse to taste real fruit. Yet, in vain, he tries to convince his students and colleagues not to give up on nature.
The Pod Generation has everything I want in science fiction. It explores an aspect of science and takes it to its logical conclusion, exposing something about humanity. Challenged is the idea of the natural versus the synthetic. Can science and technology become superior to nature and God (the god part is not addressed)?
"…could produce an embryo at the lab and have it grow in a plastic birthing pod…"
Does the synthetic food you create provide the taste, texture, and nutrition of the real thing? Likewise, if you can grow a baby in a pod in the most perfect environment, will that baby have the same benefits and outcomes as if developed in a mother's womb? Is there something to be said about that biological connection between mother and child?
There are also political and corporate implications. For example, now that we no longer need women to have children, is this the new future of human reproduction? At one point, The Womb Center decides that Rachel and Alvy can no longer care for the pod at home and demands it back until their baby is ready to be born.
The Pod Generation is much more of a fable than a sci-fi thriller. In other words, no one dies, and there are no laser gun fights. Instead, Barthes' story sets up this futuristic world and asks questions. The biggest question is whether pursuing a synthetic world is the right path for us as a species.
As you can see, this review is mainly about the questions asked. The plot is the real star here. That said, Emilia Clarke and Chiwetel Ejiofor are perfect as our leads. They are the hyper-attractive everywoman and everyman. It's easy to see ourselves in Rachel and Alvy. The story simply plays around with its central premise, ideas of gender roles, and the connection we lost with nature and natural living in urban cities.
The Pod Generation is a science-fiction film with something to say and forces us to confront our future by asking questions. Just because we can screw around with biology, should we? Sophie Barthes' futuristic tale is worth watching just for the conversation that's bound to happen afterward.
The Pod Generation screened at the 2023 Sundance Film Festival.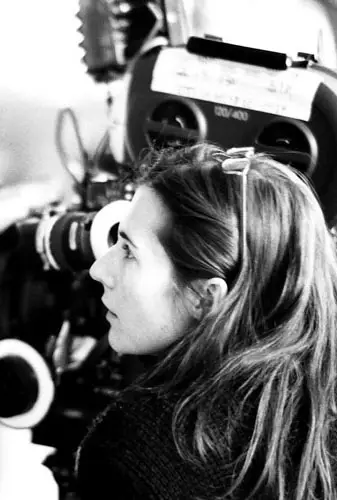 "…a science-fiction film with something to say and forces us to confront our future by asking questions."