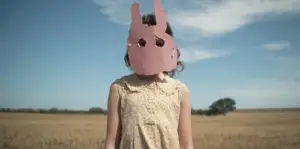 SUNDANCE FILM FESTIVAL 2023 REVIEW! A parable about the perils of single parenthood under the guise of a slow-burn horror film, Daina Reid's Run Rabbit Run could also be seen as a mildly-compelling take on the "creepy child" genre trope. Benefitting from its sun-scorched setting and two excellent lead performances, the feature ultimately fails to tie its plot threads together compellingly. It is not for the lack of trying.
Sarah Snook plays Sarah, a single mother and fertility doctor whose daughter, Mia (Lily LaTorre) – spoiler alert! – allegedly becomes possessed by the spirit of Sarah's deceased sibling, Alice. All the signs are there. The young girl starts wearing a homemade rabbit mask, having panic attacks, getting nosebleeds, scribbling frightening images on the back of her homework, and voicing messages from the dead. "Why were you so upset today, bunny?" Sarah asks her at one point. "I miss her," Mia replies. When asked to clarify, she says, "My mommy."
The "mommy" in question happens to be Sarah's mom, Joan (Greta Scacchi), who has dementia and is confined to a home, and whom Sarah prefers to ignore as much as possible "I want to see Joan," Mia keeps saying, despite never having met the woman. Finally, she asks her mother to start calling her Alice. "You're not my real mother," she whispers one night.
"…[Mia] allegedly becomes possessed by the spirit of Sarah's deceased sibling…"
Is there more to Alice's death than meets the eye? How does Mia suddenly know so much about her mother's past? What's up with the white rabbit – apart from the obvious allusions to Alice in Wonderland – and Sarah's oozing wound? Yet, despite all those questions, Run Rabbit Run is not as convoluted as it may seem. In fact, keen cinephiles will likely predict most of the twists and turns a mile ahead.
The film shines when it comes to character portrayals. Reid is wise to gradually unravel Sarah, peeling off layers and allowing us deeper into her psyche. Sarah Snook gives a commanding lead performance, harsh but loving to her daughter, acknowledging that she's letting out her pain and anger on the girl and cannot stop. Lily LaTorre more than holds her own. "Will you kill it?" she asks her mom nonchalantly when they run into a bird. Their complex relationship is believable and well drawn out.
Reid is no amateur when it comes to helming more searing sequences. One has Sarah (accidentally?) slam her pestering daughter's hand in the car door. An extended visit to her childhood home, wherein Sarah forcefully drags Mia out of a room, is memorably fervent. A particularly difficult-to-watch scene involving scissors may be the sad highlight of the feature.
Bolstered by Mark Bradshaw and Marcus Whale's electronic drone soundtrack and Bonnie Elliott's atmospheric cinematography, Run Rabbit Run could've used some more forward momentum. It lacks outright scares and novelty but makes up for it in some psychological depth. Reid's film may not reach the profundity it strives for, but how many horror titles even strive for anything these days?
Run Rabbit Run screened at the 2023 Sundance Film Festival.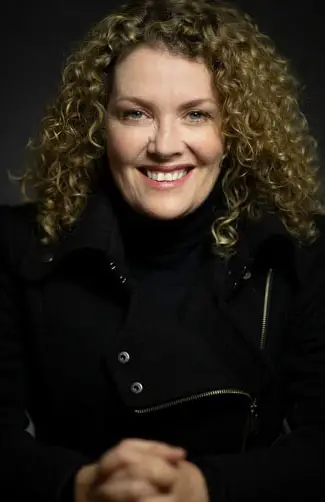 "…two excellent lead performances..."