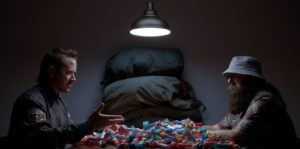 The Pez Outlaw brilliantly brings all these seemingly disparate elements together via a tightly controlled tone and the greatest use of reenactments any documentary will ever see. The filmmakers aren't recreating the events from the 1980s and 90s just to give the facts of what happened a visual representation. No, the Storkels and director of photography Britton Foster use them to place audience members into Steven Glew's mindset to stunning effect. For example, when Glew describes the mysterious woman who sent him down the Pez path, it becomes black and white, with an eerie, clandestine vibe to it.
As Glew reminiscences about his first visit, the color palette is much more vibrant and intense than previously. As he describes shaking the people following him, there are long tracking shots of Glew being followed by a person in a trenchcoat and hat looking for him in a car. Filming the production in this way, incorporating all these styles, allows everyone watching to understand what Glew was feeling and thinking at the time, even if those things are made up.
See, a few employees of Pez at the time who are interviewed, and even Josh Glew, don't believe anyone was actually tailing Steven Glew. But, as stated in the beginning, the truth is stranger than fiction, and the Pezident was an insecure, angry man. To say more would spoil the fun of the film.
"…has something for everyone."
The interviews with everyone, from the Glew family to Homeland Security officers, from Pez employees to hardcore collectors, are enlightening and engaging outside of the perfect visual presentation. Thus, they help elevate The Pez Outlaw to that next level of entertainment.
Also raising the documentary to utter perfection is Michael James Lee's score. The music, just like the cinematography, changes styles to get viewers to understand the subject's point of view. This extends to the interviews, where expertly placed music cues play big dramatic moments hit more impactfully.
The Pez Outlaw has something for everyone. It's a crime thriller, rom-com, family drama, corporate espionage flick. It is also a sincere and loving look into the Pez collecting community, which is full of the sweetest people imaginable. This is the kind of film you'd show to someone who doesn't like documentaries to change their mind. It is that good and powerful.
The Pez Outlaw screened at the 2022 SXSW Film Festival and the 2022 Newport Beach Film Festival.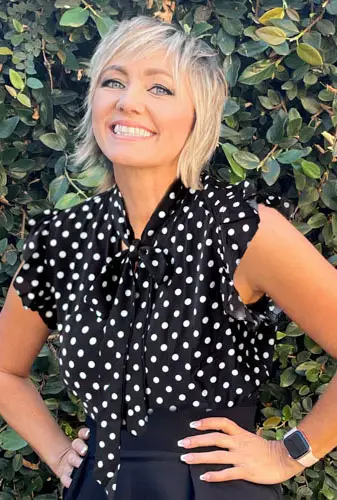 "…truth is stranger than fiction."