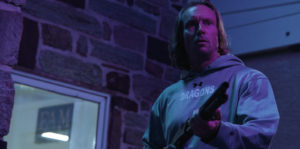 NOW ON VOD! As America's slasher epidemic enters its 45th year, we are seeing on the street newer and deadlier masked killer movies. These aren't regulated Hollywood meat grinders. Instead, they are souped-up, stripped-down blood spillers made by renegades straight out of nowhere. Bodycounts are getting higher, kill scenes are coming earlier, and all the fat has been trimmed away with a chainsaw. One of the most lethal of this new variety of street-level slashers is writer-director Ray Martin's neo-retro murder stampede, The Patrolman.
It opens with a party where a lot of people are slaughtered in unusual ways by someone dressed in an ultra-black masked cop patrol uniform. We then flash cut to a film distributor (Tom Rafferty) floating in his pool, yelling at someone offscreen that he would never release the awful killer patrolman horror movie that was shot on his property. The distributor is then cut up and left in the pool with his guts out. 
Detective Slater (Ray Martin), Detective Gross (Damon Forte), and their new patrolman (Joe Austin) are assigned to the case. They get chewed out by Captain Lawrence (JohnatDavis) to hurry up and solve the case, as unsolved murders make it harder for him to sell his house. They have their work cut out for them, especially when more people associated with the horror production start showing up dead. Who keeps murdering people in highly creative ways over and over, dressed like a patrolman, just like in the movie?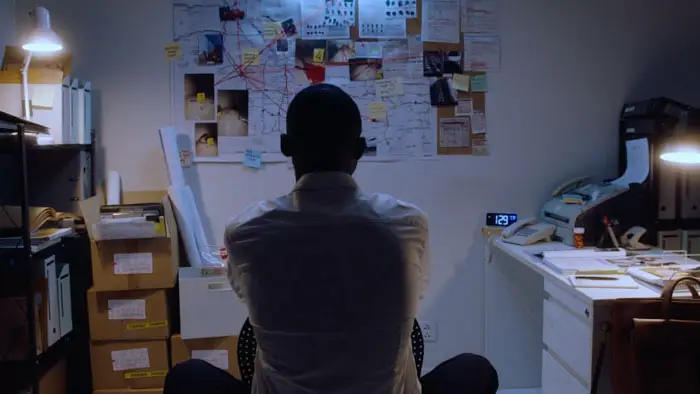 "…people associated with the horror production start showing up dead."
I've written before about the stripped-down slashers that have appeared in the underground lately. Many follow a minimalist approach, which reduces the filler between kill scenes, resulting in shorter run times, like the 48-minute length here. The Patrolman innovates further by incorporating a lot of self-reflexivity, just like Scream did back in the day. There is a scene in which the characters talk about how much they enjoyed Matthew Lillard's work in that movie. Going the meta-horror route was a wise move, as it allows the work to be clever while simultaneously not taking itself too seriously. This helps you deal with the inevitable shaky gore effects and raw performances that go hand in hand with low-budget horror pictures.
The cheesy parts are taken as honoring slasher tradition, making the moments of brilliance glow in the dark. I was impressed with several visual cues from the golden age of horror, including a lovely death by a toasted marshmallow that harkened back to Happy Birthday To Me. There are also several instances where the makers of the movie in the movie are referenced as wanting less dialogue standing in the way of the good stuff. Martin makes good on this desire, which is very impressive. Everyone knows it is the cops that take up the most time yakking away in horror, with their mustaches and trench coats acting as levees for the rivers of blood the audience wants to dive into. Yes, there is some chit-chat between officers, but it has been shaved to the bone.
This is also the latest attempt at returning to the slasher dressed-as-a-cop territory that Lustig founded with his Maniac Cop franchise. Obviously, now more than ever, there is a hankering for a hunk of cop horror, as policing is very scary today. The filmmaker maintains a professional sheen with solid lighting and an excellent synth score. This is obviously still an indie production, but the quality is undeniable. I am fascinated by how people are returning the old slasher tropes to be faster and meaner.
It will be interesting to see when the mainstream catches up to the street action of underground slashers. It seems there is an unquenched need for bleeding out there. If you see The Patrolman, you best pull over cause it will cave your head in.
For more information about The Patrolman, visit the Ray Martin Films website.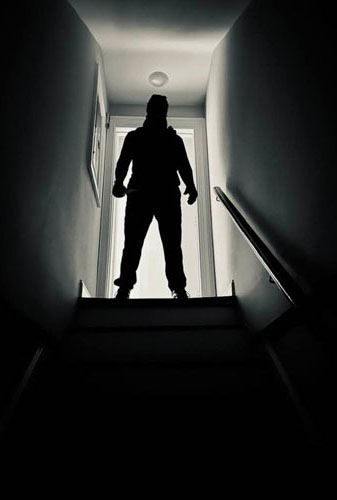 "…there is an unquenched need for bleeding out there."