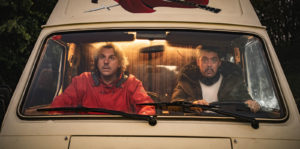 The Passenger (La Pasajera) is a "creature hits the road" horror film that begins with two tourists being brutally murdered by a monstrously evil-looking possessed woman. Directors Raúl Cerezo and Fernando González Gómez offer an uncanny premise and deliver a well-crafted and intentionally disturbing genre story. Screenwriter Luis Sánchez-Polack quickly establishes the characters and their individual identities before the proceeding 90-minutes jumps off to the core plot without leaving any obvious loopholes or a feeling of any incompleteness.
Blasco (Ramiro Blas) cleans up the beloved van he calls "Nessa," preparing her for a long trip. En route, he must pick up and carry three passengers, servicing them as a cabbie: Mariela (Cecilia Suárez), her rebellious daughter Marta (Paula Gallego), and Lidia (Cristina Alcázar) join Blasco. Given this is a horror production, it seems as if the next step of this road trip would be for a passenger to go crazy and wreak havoc on the rest of the occupants of the van. But despite what the title suggests, the plot goes in a slightly different and undoubtedly better direction.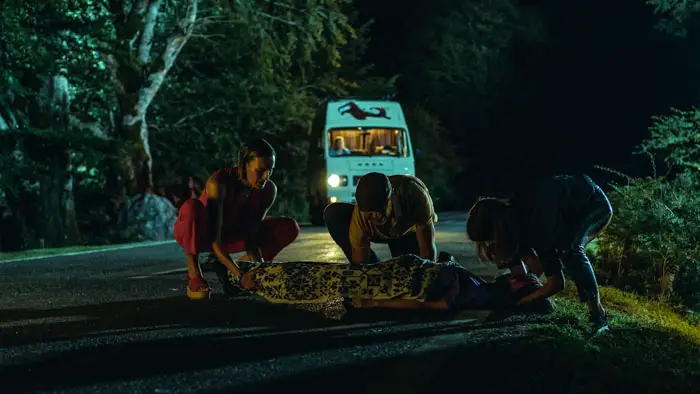 "…zombie-esque alien monsters with grotesque faces, disgusting appearance, and slimy bodies…"
Once the passengers face the threat seen earlier out on the road, the movie fills the screen with eerie moments forcing the viewers to cover up their eyes. The second half is shot entirely in the dark and silent night, enough to give you the needed atmosphere and tension. Over that comes the zombie-esque alien monsters with grotesque faces, disgusting appearance, and slimy bodies that will surely creep you out.
The makeup artists and special effects have done a fine job with the makeup and prosthetics to create this fresh take on film monsters. We have seen zombies, spirits, and other worldly creatures in countless titles before. In The Passenger, we witness a parasitic creature inspired by Ridley Scott's Alien who eats up its host and causes them to suffer from what seems like a carbuncle infection, thus, making them a freaky and dangerous monstrosity.
There are elements present reminiscent of the slate of typical genre offerings we've witnessed before, such as the woods, an eerie mist engulfing its surrounding, and the idea of a threat lingering over an isolated group. But the filmmakers cleverly sway from them before the general staples begin to feel stale. The dark setting, hair-raising movements of the creepy creatures, alarming whispers heard in the shadows, and the well-placed jump scares make up for all these cliches and turn this into a worthwhile experience.
"…should go on your must-watch list."