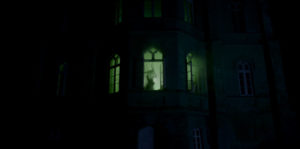 A sumptuous love letter to the likes of Bava, Argento, and Fulci, director-writer Kevin Kopacka's Dawn Breaks Behind the Eyes is a stylized ode to all things giallo. From its story and cinematography down to its trippy soundtrack and wonderfully cryptic title that echoes such genre mainstays as Don't Torture a Duckling, Twitch of the Death Nerve, and All the Colors of the Dark, this is modern giallo.
The movie introduces us to a rather dysfunctional coupe, Dieter (Frederik von Lüttichau) and Margot (Luisa Taraz), who are visiting an inherited, decaying castle. Their hair-trigger tempers mean they two are mere seconds away from their next outburst to each other. Dieter wants to leave prior to even setting foot inside, and, while reluctant, Margot finds herself inextricably drawn to the elements within.
Between barking insults at Margot, Dieter misplaces his car keys, prompting an overnight stay for the couple, which only propels their marital decay to match their decrepit surroundings. Perhaps incited by the house, or something more insidious within, the couple further act on their disdain for each other. When things reach their ripping point, Kopacka and co-writer Lili Villányi have a bit of fun with the audience, pulling a few rugs out from underneath us.
It would be criminal to go into further detail for fear of spoiling any of the turns in store, so instead, merely allow Dawn Breaks Behind the Eyes to wash over you like a warm rush of psychedelics with friends.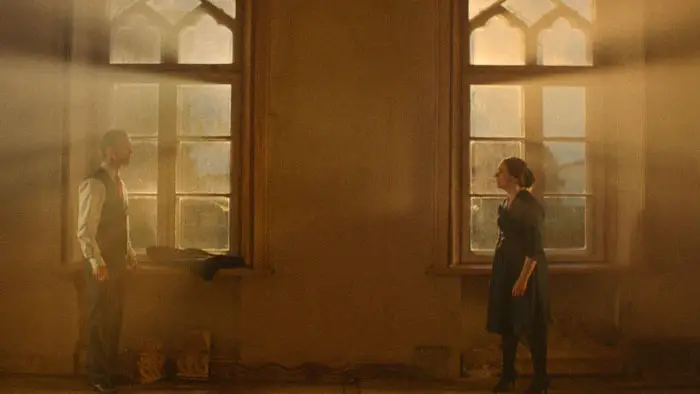 "…incited by the house…the couple further act on their disdain for each other."
With the same affection for its subgenre that Tarantino and Rodriguez lavished on exploitation with Grindhouse, the mysterious horror tale nails the ambiance of its cinematic forefathers. Making the most of its locale, cinematographer Lukas Dolgner soaks in the same jaundiced lens of its pulpy predecessors. Stitching it together with sound, Kopacka enlists a number of retro-sounding songs with a suitably macabre score. I was shocked to learn songs from Acid Frog were actually released within the last decade and not some obscure 1960s act.
The cast deftly leaps with the tonal shifts, inviting the audience to follow them through this bizarre funhouse. Both von Lüttichau and Taraz are given latitude to explore their characters beyond their initial rigid peculiarities. Additionally, Jeff Wilbusch and Anna Platen provide further narrative fuel in the later acts.
Despite budgetary limitations, Dawn Breaks Behind the Eyes perpetually surprises with its ability to keep all its plates spinning throughout its kaleidoscopic journey. Despite a few turns, it steers back to the central theme of the fragility of male-female relationships and the corrosive behavior we allow to seep into them. Moreover, it manages to accomplish all this with a crisp 73-minute runtime that doesn't overstay its welcome for one minute.
Dawn Breaks Behind the Eyes would make a fitting double bill with directors Ezequiel Endelman and Leandro Montejano's 2017 film Crystal Eyes, which also nails the genre aesthetic with enthusiasm and style that seems to bleed from every scene.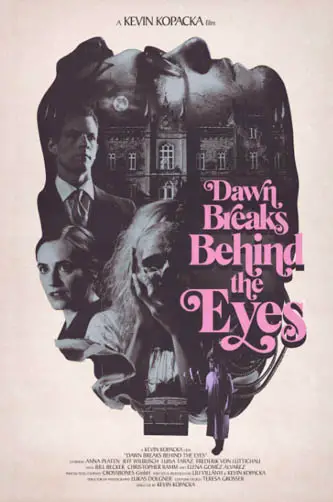 "…nails the genre aesthetic with enthusiasm and style..."