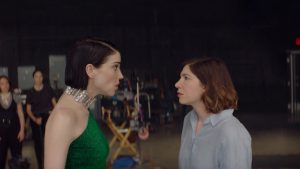 NEW TO HULU! Okay, full disclosure: I have only briefly listened to St. Vincent before viewing The Nowhere Inn. I'm sure that a large percentage of people reading this will be really annoyed by that, but you're just going to have to deal with it. If it makes you feel any better, I am listening to her now as I'm writing this review. The big pull for me to see the film was Carrie Brownstein. I have been a fan of Sleater Kinney for what seems like forever, and Portlandia has some of the funniest comedic moments of the last decade. With all this being said, I now have a great appreciation for St. Vincent, the alter ego of Annie Clark, who co-wrote the film with Brownstein and is the star of the film.
How do I even begin describing the plot of The Nowhere Inn? It's such a hilarious and glaringly intelligent mindfuck that it's hard to nail down properly. We start at the beginning of a St. Vincent tour where Annie Clark and her best friend Carrie Brownstein are discussing the filming of a documentary that will show people the real person behind the St. Vincent persona. Annie Clark likes playing video games and going to farmer's markets. She's a really big fan of salads without dressing because she likes to "taste the dirt."
There's not a lot of gritty interesting factoids for Carrie to grab onto in the direction of this documentary, so she becomes frustrated and suggests that the film just be a concert doc. She then suggests that the two of them should write a song together, which could be the underlying narrative.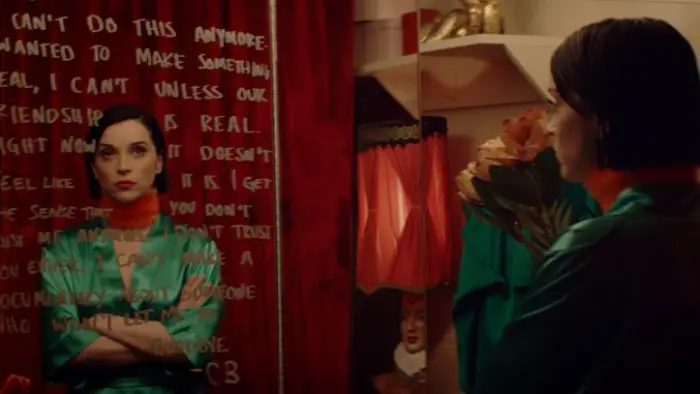 "…suggests that the two of them should write a song together, which could be the underlying narrative."
Understandably so, Annie begins to get a complex about how uninteresting Carrie is making her out to be, so she retreats very far into her onstage persona. Her stage outfits (which are absolutely fantastic by the way) start to make their way into her offstage life. She starts a love affair with actress Dakota Johnson. She becomes St. Vincent and even exceeds the excess of that character to become something else entirely until nothing about Annie or St. Vincent is authentic anymore.
In a Q&A, director Bill Benz stated that the Nicholas Roeg film Performance greatly influenced this film, and the parallels are definitely present. The Nowhere Inn deeply explores the dynamic between performer and audience and performer with self. It does so in a way I've never seen before. It has so many layers that at some point, you get lost in the thick of it, but in a good way. The points about identity and it's relation to art that the film makes are incredibly astute. On top of all this, the movie is hilarious in an overtly weird way. As I said to someone I met the other day, the film is like Portlandia on acid, and I believe that's a statement I'll stand behind.
On top of all the philosophical queries that The Nowhere Inn gives us, it also features some fantastic live concert footage and great music overall. If you weren't already a fan of St. Vincent going in (hi, hello, it's me, and I'm sorry), you will be coming out. Annie Clark is a truly talented and very interesting performer and musician. The persona of St. Vincent has served her well, and I'm glad because, without it, this film wouldn't exist, which would truly be a shame. So, please, even if you don't know anything about St. Vincent, go check out The Nowhere Inn. Oh, and stay until the very end of the film, you'll be glad you did!
The Nowhere Inn screened at the 2020 Sundance Film Festival.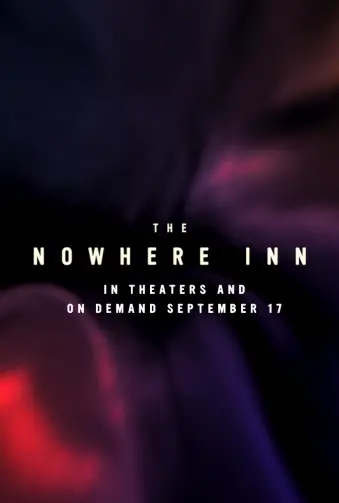 "…like Portlandia on acid..."