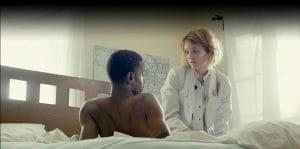 Izzy Gets The F*ck Across Town is the most apt title possible for this madcap comedy. Izzy (Mackenzie Davis) wakes up in a stranger's bed, recalling very little about the previous night. She proceeds to freshen up in the bathroom and sees a postcard for Providence, Rhode Island. While waiting for a ride, she discovers that her ex-boyfriend's engagement party is at 5pm that day… and it's on Providence Road! Taking this as a sign from the universe that she should crash it, Izzy sets about with no money to make it to the other side of Los Angeles in time to change her ex's mind and win him back.
"…Izzy should be impossible to like or empathize with."
Izzy's first stop is to Dick's (Brandon T. Jackson) Garage. The reason she is so broke is that she gave him every cent she had to fix her lemon on wheels. The parts are on order, so no dice quite yet. Next, she visits Walt (Haley Joel Osment), a well-meaning but unkempt fellow who has the occasional odd job for her. While he does have one, he has no cash to give her at that moment. This leaves her in a relatively tight spot, and as she slowly makes her way from one section of the city to the next, she encounters an array of eccentric characters and outlandish scenarios, including a much-needed reunion with her sister Virginia (Carrie Coon).
A sufficiently detailed breakdown of those idiosyncratic personalities and bizarre moments would be a disservice to the movie. As with the best road trip movies, the joy comes from watching the put-upon main character and her reaction to the crazy things happening around her. Each character, no matter how small, is memorable and clearly has a life outside of the screen. Izzy is the best written of the bunch, as she should be impossible to like or empathize with, given her complete selfishness. At every turn, Izzy is concerned solely with her desires, and no one else's or decrying how hard her life is without taking any responsibility or making any attempt to fix it. Mostly because of the intelligent writing, the audience is always on her side, actively rooting for her to break-up an engagement, not an easy task.
"…Izzy sets about with no money to make it to the other side of Los Angeles in time to change her ex's mind and win him back."
Izzy Gets The F*ck Across Town is writer-director Christian Papierniak's feature-length debut. Just like the writing, his direction is exquisite. Izzy helps Agatha (Alia Shawkat) break-in to a friend's place, only for Agatha to rob it and get meth head Rabbit (Kyle Kinane) out before the cops come. The scene is as silly and fun as it sounds, and somehow never devolves into a tonal breakdown of the serious circumstances that initiated Izzy's odyssey. The entire movie plays out this way, with several scenes being laugh out loud hilarious, without sacrificing the emotional stakes or dramatic tension.
The most magnificent writing and directing in all of movie history would be for naught if the actors weren't up to the challenge. Mackenzie Davis, who recently stole the show in Blade Runner 2049, gives a star-making, revelatory performance that adds nuance and grace to a turbulent, uninhibited character. Her commanding presence grounds the movie, the way she jumps back and forth between comedy and drama in the same scene, is electrifying. Without Davis in the lead, the film would fall apart. Bolstering her is a remarkable supporting cast with Haley Joel Osment showcasing impeccable comedic timing and Carrie Coons, with just one scene, going from ice queen to caring big sister being the two standouts. Everyone, though, gets a moment to shine and delivers perfectly.
Izzy Gets The F*ck Across Town is as delightfully offbeat as the title suggests, with an engaging and heartfelt story. Smartly written with stellar acting and deft direction, this hilarious movie demands to be seen as soon as possible.
Izzy Gets The F*ck Across Town (2018) Directed by Christian Papierniak. Written by Christian Papierniak. Starring Mackenzie Davis, Haley Joel Osment, Carrie Coons, Brandon T. Jackson, Alia Shawkat, Kyle Kinane, Alex Russell.Izzy Gets The F*ck Across Town will be in limited release in theaters on June 22, 2018. 
Grade: A