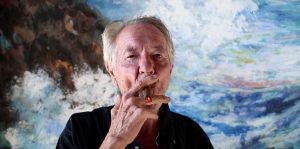 Every now and then, a film comes along, bringing theorist Dziga Vertov's belief "long live life as it is" into full view. Michael DeMinico's The Mundo King about the German art and civic engineer eccentric, Rolf Schulz, is just that. Unless you have traveled to the Dominican Republic, know the country well, or are an artist and explorer, you probably have never heard of Schulz or his grand edifice, Castillo Mundo King, in the coastal town of Sosúa overlooking the picturesque Bay of Puerto Plata.
The Mundo King is a carefully orchestrated documentary about one man's desire to live his life as he was called, and it's fascinating. DeMinico's exceptional camera work and lighting, along with a well-chosen music track, capture every artistic element of the seven-story castle. Castillo Mundo King is filled with an umpteen amount of outsider art, including hundreds of sculptures, mostly created by Haitian and Dominican artists, stone and wood carvings, murals, and paintings; which Schulz created many of. The director constructs Schulz's history and story from his beginnings as a successful civil engineer who built many homes in Hamburg, Germany until he decided to change his life and become an artist. However, Schulz had an even higher calling… extraterrestrial life.
Despite Schulz's outer-worldly beliefs, you cannot help but be drawn to him. The movie immediately captures Schulz's charismatic personality as a friendly, eccentric, and funny man who captures everyone's attention. He smokes cigars, walks around town, swims in the ocean, and chats about alien life as if it's just all in a day's work. It's quite apparent, too, that he is exceptionally bright. Several people have worked for Schulz in creating Castillo Mundo King, and he has inspired many Dominican artists, among others.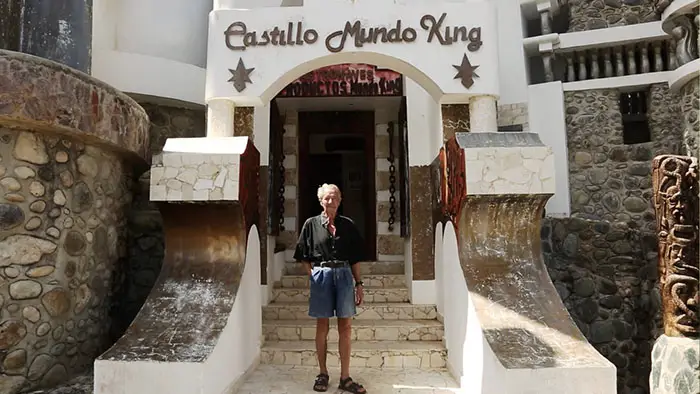 "In 2001, all his art in Hamburg was destroyed…he ended up in the Dominican Republic…where he could live out his life as he wanted."
Schulz embarked on Castillo Mundo King in 1990 when he left Germany. He never found a home as an artist in Hamburg after owning a gallery and creating extraordinary projects and performance pieces. According to his daughter and son, Schulz was arrogant, anti-establishment, and bored. He also was not the best dad. Schulz was imprisoned and ended up in jail for money issues. In 2001, all his art in Hamburg was destroyed. It was in his 50s he ended up in the Dominican Republic, a third-world nation where he could live out his life as he wanted. His daughter believed her father found his own paradise-like version of Conrad's Heart of Darkness. He was searching for a paradise to be king, which is Conrad's do in first-world nations.
Castillo Mundo King was not built with electricity or running water and was a continuous work in progress, which welcomed visitors of all types, and the door was never locked. Schulz's dedication to connecting to alien life never stopped either. He believed his dreams as inspiration and a fortress to his soul, which is why he created his castle to communicate with alien life.
The Mundo King captures all this in rapt detail, as the history of this man's life is put forth in an absorbing and absolutely captivating fashion.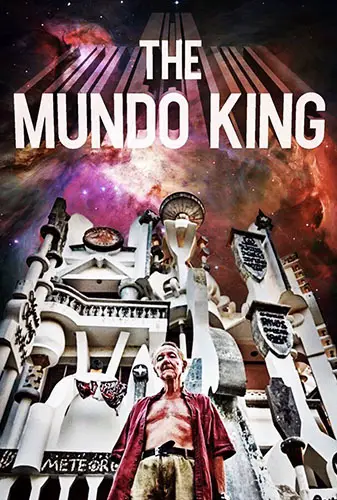 "…a carefully orchestrated documentary...fascinating."