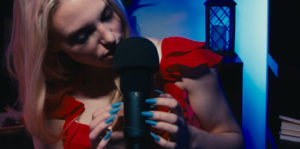 A family man is seduced by his sexy postal carrier in Andre Ray's thriller, The Mail Lady. Derek (Will Coleman), his wife Renee (Amerrah Garrison), and their children appear to have an idyllic middle-class family life. Derek is a software engineer who works at home, and Renee is a successful entrepreneur about to go on a short business trip to close the deal of a lifetime.
While Renee is away, Derek is visited by his new mail carrier, Sloan (Molly Anderson). She is a temporary replacement while their regular person recovers from a severe illness. Sloan is quickly enamored by Derek's good looks and muscular physique. Sloan tells him she does live ASMR streams as a side gig and invites him to a private session that night. Knowing better, Derek slips into Sloan's intimate internet stream and gets the whole neck-tingling experience with a "happy ending."
Just as Renee returns from her trip, Sloan comes by with a gift and a letter for Derek. Realizing he made a colossal mistake with Sloan, he tells her that the night before was a one-night fling and could never happen again. Of course, this is a thriller, and Sloan doesn't take the news well. After Sloan makes several attempts to see Derek, he reports Sloan to her supervisor.
Filmmaker Andre Ray has a little gem with The Mail Lady, and by the end, I wish someone had given him a dump truck full of cash to make this movie. I'll start with its weaknesses and end on a great note.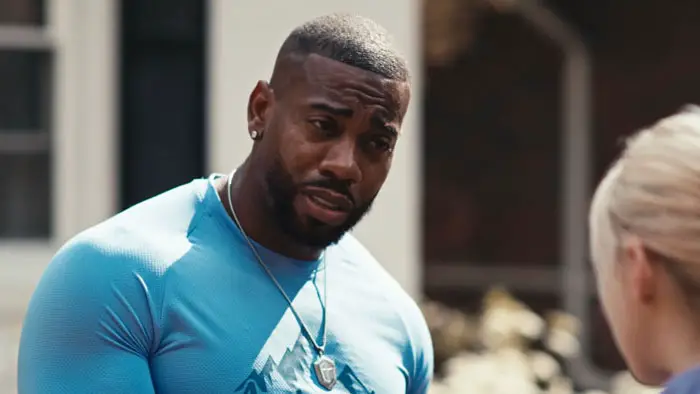 "Derek is visited by his new mail carrier, Sloan…is quickly enamored by Derek's good looks and muscular physique."
This is not exactly the best-looking or best-sounding film I've seen in a while. Sadly, this can only be solved by money. There are a lot of camera, lighting, and sound issues throughout the film. Some conversations are single shots with the camera panning left and right. It's also clear the budget for lighting…especially at night, was minimal, and the audio was inconsistent. iPhone sound effects were too loud…so much so that I thought my iPhone was going off in the middle of the movie.
In indie films, technical shortcomings can be made up by a great story, and fortunately, The Mail Lady has a tight script. We've definitely seen this kind of erotic thriller before. Of course, Fatal Attraction comes to mind. Though the structure is similar, writer/director Ray makes it his own. The fact that the stalker is a postal carrier means she knows her target's address. The use of ASMR puts a new spin on the erotic aspect of the story. When you consider also that Sloan is a veteran and suffers from PTSD, we've got ourselves a potential blood bath in the making.
Ray adds subtle nuances to the mix. The best are the effects that the stress and pressure from Sloan is causing on Derek's job and marriage. The film adds in the use of current technology, and essentially becomes an updated Fatal Attraction for the modern era. Honestly, I wish The Mail Lady had a much bigger budget.
The best compliment I could give The Mail Lady is that Andre Ray nails the film's pacing. This story moves perfectly and feels like the roller-coaster ride it was meant to be. He masterfully progresses the plot such that Derek and Sloan's character arcs are precisely synchronized. It's the story of a family man, a sexy thriller, and ends in a violent game of cat and mouse. Ray never gives you a chance to be bored. This is the mark of a genuinely promising emerging filmmaker.
For screening information, visit The Mail Lady Instagram page.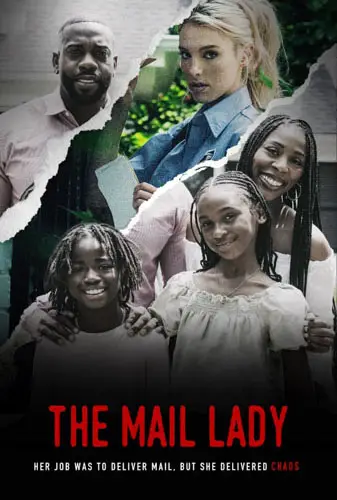 "…story moves at the perfect pace and feels like the rollercoaster ride it was meant to be."