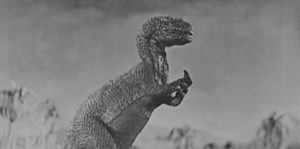 The history behind The Lost World is fascinating. The original cut (which I watched) was 90 minutes long. When Warner Brothers purchased it, they cut it down to 60 minutes. Restorers were able to track down various versions of the film and return it to its full length. It even opens with footage of Arthur Conan Doyle himself reciting (silently) the opening poem.
Watching The Lost World today, the story is relatively standard (except for the few instances of blackface). Movies today do a better job burying the clear plot lines, but the overused plot points are there, which is the benefit of being first. We know that Malone is going to leave his fiancé for Ms. White. That Roxton has feelings for White, and Prof. Challenger is obsessed with proving to his colleagues that he's not insane. Considering it was released in 1925, the story was probably groundbreaking back then. We're always copying old plots like this even today.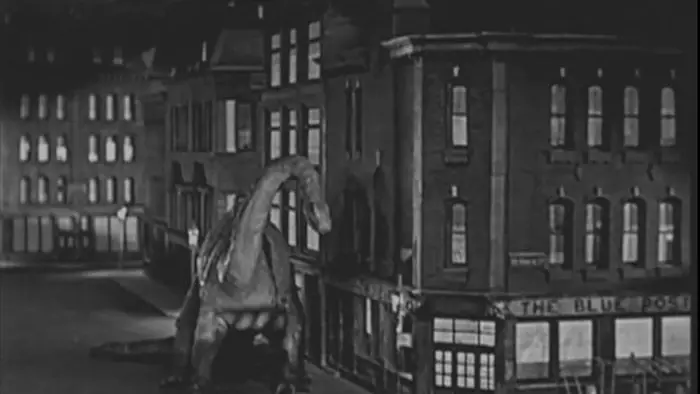 "…the dinosaur fights are top-notch and impressive…"
The adventure makes excellent use of split-screen with the actors in the foreground watching dinosaurs in the back. What's most remarkable is the quality of stop-motion animation. It's not that much different from the quality of stop-motion animation today. I could point to half a dozen such films I've reviewed recently, and there's not much difference. The dinosaurs are highly articulated. Their tails move smoothly, and the dinosaur fights are top-notch and impressive (except for the piggyback riding in two instances). Compared to Ray Harryhausen's work, Harryhausen's is superior, but not by much.
Honestly, 1925's The Lost World is arguably the standard for stop-motion animation across the board and remains that way today. If you enjoy monster films, The Lost World is a must-see for history's sake. Because you like TOHO Monster Movies, then you're already used to "reading" your motion pictures. If you're an independent filmmaker, especially in the adventure genre, watch The Lost World and learn about the more robust storytelling possibilities.
The full version of The Lost World can be viewed at arthur-conan-doyle.com. Photos Credit: arthur-conan-doyle.com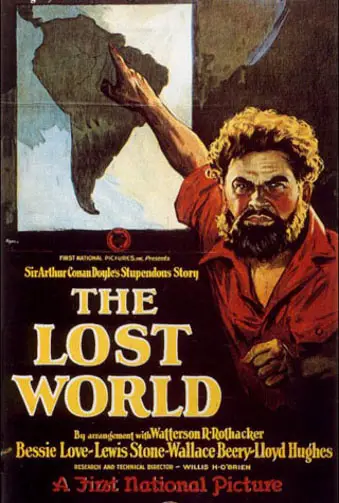 "…arguably the standard for stop-motion animation..."